Exclusive: Joe Buck Discusses New Show 'Joe Buck Live'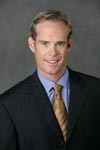 Lead baseball and football announcer for Fox Sports,
Joe Buck
, joins us to discuss his new show, "
Joe Buck Live
," which airs this coming Monday night at 9 pm ET on HBO with special guest
Brett Favre
. Joe discusses what motivated him to take on the challenge of a new show; his comedy team -- which involves
Will Ferrell
and
Adam McKay's
website,
Funny or Die
; the balance his show will have between entertainment and sports, plus, responds to critics that include a certain Sports Guy from ESPN. (Full disclosure: I'm originally from St. Louis and there is a city ordinance that makes it against the law to not be a full supporter of any member of the Buck family, so, yes, I make no bones about it, under the law, I'm a fan.)
Mike:
How did "Joe Buck Live" come about? I know you've been trying to do something along these lines for awhile now.
Joe Buck:
Yeah. You know, the only reason, really, why this came about was because HBO had an opening when Bob [Costas] left to go to the MLB Network. I had shot a pilot for Fox, I had it in hand and met with Ross Greenburg; he liked it and said, "If we get any opportunity to do something, you'll be my first call." I kind of walked out of there thinking, "Sure, I'm sure everybody's heard that. No chance he will ever follow through on that." Then, almost three months later, the news came out about Bob and [Greenburg] called me and said, "We have a list of one who we want to replace him and that's you."
Mike:
Were those promos with
Paul Rudd
for the Fox show?
Joe Buck:
It's confusing and I know why you say that: Anything you see on YouTube with Rudd and me is from Bud TV. The pilot was the next generation of that I did with Matt Piedmont -- who I was with at Bud TV and a writer at "SNL" -- he and I got together and put a pilot together that was more of an interview show and sketch comedy.
Mike:
I assume you've had, at one point or another, a conversation with almost every resident of the St. Louis metropolitan region...
Joe Buck:
(Laughs) Yes.
Mike:
I'm no exception and, maybe, ten years ago you were MCing the St. Louis baseball writers dinner. I
think
you just started doing football for Fox and were partnered with Bill Maas?
Joe Buck:
Right, Bill Maas or Tim Green.
Mike:
I said something along the lines to you, "It seems like they are pulling in the reigns on your humor as opposed to what you would do on a local Cardinals broadcast" and you responded something along the lines of, "Tell me about it." Do you feel you have to hold back when broadcasting national games and do you want to do "Joe Buck Live" as way to have an outlet for your humor?
Joe Buck:
Well, it fits in well. I think first and foremost I want to do this show because I do want to host something, I want to interview people and I want to have an entertaining show. The sense of humor's all part of it but I am kind of looking at it, in some regard, as an after dinner speech. I do a lot of events and when I do those I want people to have a good time. I want them to think, at the end of the dinner or the end of this show, it was worthwhile to listen to. I think there's room for both. I think there's room for being serious and having a great interview and a great conversation with whoever the guest may be. I think, on the other hand, it's an hour of TV and it's on HBO and there are opportunities to step outside of being totally serious and have some fun with it. I need to find that balance.
When I do play-by-play, people aren't listening to hear me broadcast a game. I get the chance to do that and I'm honored to do it, but people want to hear the game. They don't want to hear the announcer go on and on and make it about him. These are two totally different things and this gives me a chance to do a show four times a year and have it fit in and around what I'm currently doing at Fox.
Mike:
The promos for the show -- like the one where you're walking down the street in New York -- have a sketch comedy vibe to them. You're incorporating sketch comedy into the show?
Joe Buck:
Yeah, that will find it's way in there. We're going to have a taped piece that's going to be dropped in by "Funn
y or Die
," the Will Ferrell website...
Mike:
Right. And Adam McKay...
Joe Buck:
Adam McKay ... and they're turning in a piece of tape from
David Koechner
who's a great comedian who's in "
Anchorman
"...
Mike:
He's great and he's from Tipton, MO.
Joe Buck:
I didn't realize that! Is that right?
Mike:
Oh yeah, he talks about it all the time in interviews.
Joe Buck:
Well, everything the guy does makes me laugh. All of these interviews have a reason to be on the show. I would be a fool if I didn't take advantage of who we're having on to cover a story with that guest to the best of my ability. And that doesn't mean being funny, that doesn't mean being light. The goal of every interview is to get information and educate myself, probably, by asking the right questions. Apart from that: It's my job, also, to be myself. To be myself is to have fun. I think you can do that more around, than in, the interview.
I'm an HBO watcher, I know what's on there. They're very well covered with
Bryant
[Gumble]'s show. That's as journalisticly sound as you get. I'm a huge fan of "Flight of the Conchords." I'm a huge fan of "Entourage." There's room to, for lack of a better term, make it 'light' at times.
Mike:
Who will be your first guests?
Joe Buck:
HBO isn't talking about that. I can tell you that our first main guest... I'm just crossing my fingers [that it happens] and won't feel 100 percent comfortable until I'm looking at him from across the couch from me. But it's a worthwhile interview.
[Note: Joe Buck did tell us who the first guest will be but, as of this writing, it's not confirmed and Joe and HBO asked us to hold it back. Once confirmed we will update this interview]
Beyond that we're going to have [The Mets'] David Wright talking about being a sports celebrity in New York. Michael Irvin, Chad Johnson or Chad Ocho-Cinco. Artie Lange is coming on. I'm in negotiations with my longtime friend, Paul Rudd. And 'negotiations' is in serious quotes because he's trying to fit it in to the movie schedule that he's got in Washington D.C.
Mike:
What will the ratio be in regards to sports related guests and guests from the world of entertainment?
Joe Buck:
Seventy-five percent sports, twenty-five percent entertainment. I think the celebrities, the comedians, will be there to give their take on what we learned over the first 45 minutes of the show. I think the fun thing is: I don't know what the tone of the show will be, I don't know the shape the the show until I actually do it.
Mike:
Growing up in St. Louis -- or anywhere-- your view of the world becomes represented, in a way, to that city. I always assumed that everyone in the country loves Ted Drews frozen custard or toasted raviolis because everyone in St. Louis likes that...
Joe Buck:
(Laughs) Right.
Mike:
Along that same line: One of my first 'Welcome to New York' moments was in a sports bar when I would hear New York Yankees fans or New York Giants fans criticizing something you said or your broadcast style in general and my reaction was, "How can you not like Joe Buck? How dare you!" How do you get people that may not like your broadcast style... how do you get the [ESPN.com columnist] Bill Simmons of the world to give this show a shot?