Exclusive: 'Haywire's' Gina Carano On MMA, Soderbergh And 'Fast And Furious 6'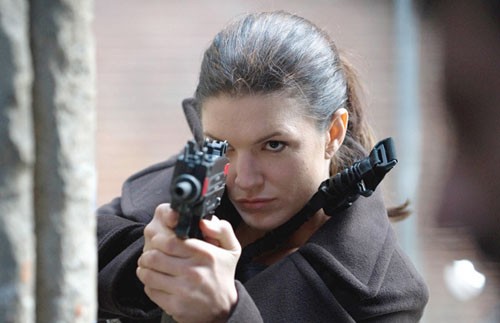 Beauty is nothing new for a leading lady, but add a healthy dose of lethal to the mix and you've got uniquely killer combination.  With her equally exquisite loveliness and fast moving fists, former MMA fighter Gina Carano has both qualities in spades – so much so that famed director Steven Soderbergh cast her as the striking lead in his new film.  Hitting Blu-ray on May 1 from Lionsgate Home Entertainment, "Haywire" has Carano playing a black-ops agent double-crossed and looking for a little vengeance.  We're celebrating Soderbergh's return to his roots with a cool Blu-ray review, but first with some tasty one-on-one Q&A time with the lovely Carano, who exclusively talked to us about her MMA past, working with the likes of Soderbergh, her uncanny chemistry with the charismatic Michael Fassbender, as well as the possibility of joining the Fast and Furious gang for a sixth installment.  Looks can indeed be lethal, so here's the lovely...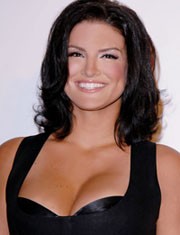 For those like me who don't know about your fight background, what is the short story of how you became an MMA fighter?
Gina Carano: The short version –I was dating someone and he went into a gym and decided to clean up his life.  He walked into a Muay Thai gym and I would go in and watch him and then I started fighting four months later after I started training.  I became addicted to it.  I started fighting over three months and traveling and I went to Thailand four times and just got crazy great opportunities and it's gotten me here.
When did you get the call about "Haywire" and did you think it was for real?
GC: I got a call that said you need to meet with this director - he's been wanting to meet with you.  At the time I had just gotten off a loss from Cyborg Santos and I didn't really want to meet with anybody.  But they were like, 'It's Steven Soderbergh.'  And I was like, 'I don't really know who that is.'
Wow!
GC: Yeah, I was completely removed from the whole movie and Hollywood scene – I didn't know anything about it.  But they were like, 'No, just meet up with him.'  I still had a black eye from my previous fight, but I met up with him and I had a four hour lunch with him and at the end of it he just said, "Look, I want to do an action film, I want to make you the lead.  I don't have a script, I don't have anything else, I just wanted to meet you and see if you'd be interested.'  And I said yes - it moved pretty quickly after that.      
So what kind of a director is Steven Soderbergh – what is his process?
GC: Well, he's the only director I know, so I don't really (laughs) know who to compare him too!  People say that he shoots really fast and he does the cinematography – at least he did for "Haywire" – so he was behind the camera.  He wasn't one of those directors that are screaming out 'do this, do that', he was behind the camera and doesn't use a lot of words.  I could look at him and know if he was happy or unhappy with a take - it was very natural.  And then he would go back to the hotel after about four days work and start cutting it together because I think that he knew what takes he liked.  He's just a man with a vision that knows what he wants.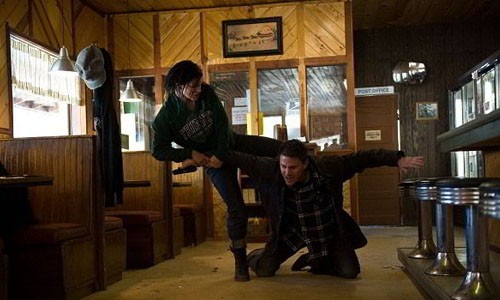 How did being an MMA fighter help in doing "Haywire" and were you able to incorporate your own ideas into the action sequences?
GC: Yeah, absolutely.  I worked with a stunt group called 8711 and they were very open to hearing what I had to say.  They've watched my sport and they've watched all sorts of Mixed Martial Arts all their lives, so they were very excited to work with me because I shared their passion for Mixed Martial Arts.  I would say, 'Hey, I think I can do this!'  And they'd say, 'Yeah, that's great – let's do that!'  And then I'd be like, 'I think I can REALLY do this!'  And they said, 'Well, we have to make it believable!'  (Laughs)  That's what Steven wanted – very believable scenes and very believable fights.  Sometimes I'd get these ideas in my head like I'd never get to do these in a fight, but I want to do them on a film.  But they were like, 'We'll save that for another film!'  (Laughs)
Some of the fight sequences in the film were so bold and brutal, especially the one in the diner with Channing Tatum.  Any interesting mishaps?
GC: Channing is a big guy – he's a very strong guy.  I remember we were practicing for our fight scene and I get him an arm bar and when you get somebody in an arm bar they stack you up on your head a little bit and swear I felt my whole spine just crunch.  And I was like, 'Oh my God, that can't happen again!'  (Laughs)  He's wonderful.  He's also a dancer, so he really gets his body very well and we both have good body control because we're athletes.  I was actually amazed at how strong that kid is – I was thinking I hope he doesn't slam to too hard right now!     
You have an impressive cast of amazing talents alongside you – did you ever feel intimidated?
GC: Well, Ewan McGregor was one of the most lovely, down to earth cool people that I've ever met.  So when he comes into my trailer and he's like, 'You wanna run lines?', I was taken aback at how natural he was.  And with Michael Fassbender he's a big, bright shiny light to me.  He bounces around and you can hardly take your eyes off him.  But there was one moment where I got really nervous.  I went to set just to watch Michael Douglas and Antonio Banderas and Ewan McGregor all act together and everybody was a little bit more at play.  I asked what was going on and they said, 'Michael Douglas is here.'  And I though 'Oh okay, I have to act with him tomorrow!'  Each actor brings their own vibe to set and Michael Douglas brings a royalty vibe.  So I thought I have to step it up tomorrow and I got super nervous.  But then I worked with Michael the next day and he was completely cool.  Just a regular human being that's running lines and makes his own mistakes, so that was nice.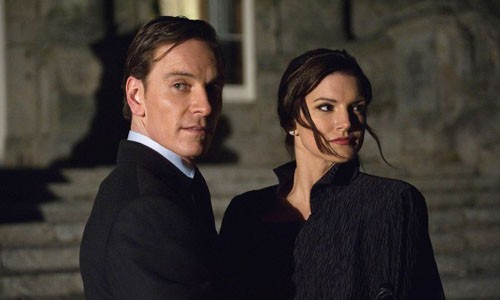 Your interplay with Michael Fassbender, both the action and flirting scenes, are amongst the films best – was there an instant chemistry between you two?
GC: I think so.  I'd like to say that of course there was (laughs), but he's definitely fascinating.  He was also the first actor that I worked with, so I felt more vulnerable than I had in the rest of the film.  I worked with him for a full three weeks and it was like 'You're gonna teach me everything because I've never done this before at all!'  He really took care of that vulnerability and I think that came across good on film together.
So what's the future for Gina Carano?  MMA – or acting?
GC: Well, I've done the fighting and honestly that's got a real special place in my heart.  There's nothing like training for a fight and being in that moment and being in that fight and having the accomplishment of doing something like that.  But now I'm at the bottom of the barrel again, now I'm having to wake up every day humbled and work my ass off and try to get better at something and it's really refreshing for me.  I'm learning a completely different craft right now and I think that's really important to me at this time in my life.  So I haven't been able to say 'yes, I've retired' because there's a little part of me that's still holding on to it, but my focus right now is to make some movies and really be good at it.  I want to be good at what I do and I know I can do better.  I can do better than "Haywire" and I know I have a lot to give as far as action and acting.  I'm really excited about it.    
And finally there's been much talk about you joining the cast for Fast And Furious 6 - are you excited about the possibility of teaming up with such a huge franchise?
GC: Absolutely.  We're still in negotiations for it, but that was a really good phone call to get.  I'm really excited to work and be a part of something so big.  My role would be kind of a small role, I don't think it would be too big or anything, but it would still be a great experience to be a part of something like that.  And myself and my management and my agents we have these other projects that are our babies that we're working on.  The one I was working on before I got the call for Fast 6 is called "In The Blood" and it's a really kind of cool "Taken" movie but with a female lead – but doing Fast 6 can only help that.
Check out the Blu-ray review skinny below!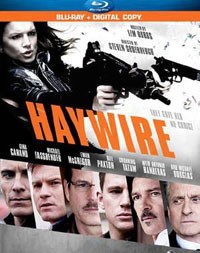 Title: "Haywire"
   Grade: 4
   Cast: Gina Carano, Michael Fassbender, Channing Tatum
   Director: Steven Soderbergh
   Rating: R
   Runtime: 93 minutes
   Release Company: Lionsgate Home Entertainment
   Website: www.lionsgatebluray.com
The Flick: Watching this one again it's so apparent how the style of Soderbergh is an important secondary character to the action prowess of lethal leading lady Gina Carano.  Using such camera and visual prowess much like he did in the underrated "The Underneath," Soderbergh heightens both the tension and action with his stark visuals and with the speed of Carano it's a match made in the MMA movie ring.  (Not to mention the memorable sizzling score by David Holmes!)  Plus the supporting cast of Bill Paxton, Channing Tatum, Antonio Banderas, Michael Douglas and especially the charming and charismatic Michael Fassbender (who definitely brings out Carano's A-game!) all make this one a high flying act that keeps that stays firmly on the rope.  Gina got game.
Best Feature: The featurette 'Gina Carano in Training' has it all – her MMA background, training for the role and examination of her various memorable fight scenes in the flick.  A one-stop shop extra usually reserved for greats like Anchor Bay, so good show Lionsgate!
Best Hidden Gem: Loved "Gentleman Broncos" kid Michael Angarano as Carano's quirky helper/hostage.
Worth the Moola: Cool, slick and filled with extra feature grit, this one is a notable addition to your collection.  (And a Soderbergh film to be proud of!)