Exclusive: Ed Helms Talks About 'The Hangover'

Ed Helms
, known to many as Andy Bernard on
The Office
, joins us to discuss his new film,
The Hangover
(opening June 5, this Friday). Ed discusses what is was like working without a tooth for three months and the experience of acting alongside
Mike Tyson
as well as what may be in store for the future at Dunder Mifflin Paper Company.
Mike:
First thing, how did you get involved with
The Hangover
?
Ed Helms:
Well, I first read the script quite awhile ago and I instantly loved it. I had a couple meetings with Todd [Phillips] -- at the time he was just producing the movie -- he later went on and did a bunch of re-writes on it and I think fell in love with it and chose to direct it. I had another meeting with him and the pieces of the puzzle just started to kind of come together. The whole cast just gelled.
Mike:
It couldn't hurt that it was also filmed in Las Vegas.
Ed Helms:
Vegas is not my idea of a wonderful place to hang out for an extended period of time. I can appreciate maybe a weekend here, but that said, of course, for me it was all about the material and working with Todd,
Zach
[Galifianakis],
Bradley
[Cooper],
Justin
[Bartha] and
Heather
[Graham]. It was just such a perfect package.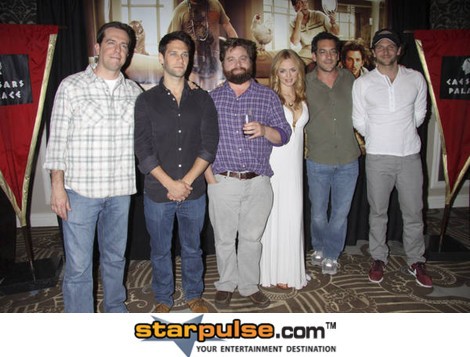 The Hangover Celebrity Poker Charity Tournament at Caesars Palace in Las Vegas © PRN / PR Photos
Mike:
I love the ensemble cast because it seems the story is creating all the buzz right now and it's not being labeled as a, as an example, "
Will Ferrell
Movie." The story itself is the buzz.
Ed Helms:
Yeah, I think you're right. That's a real testament to the script and Todd's execution as the director. It's just a fun story. It's action packed, it's a mystery... have you seen it by the way?
Mike:
Not yet, I've been trying and will be seeing it [Tuesday night].
Ed Helms:
I have to say: I'm really proud to be a part of a movie that seems to be getting some attention because of what the movie is and not
the package
the movie is; it's not who's in it and so forth. it seems to be getting some recognition on the merits, which is very exciting.
Mike:
It's interesting because there are a few different trailers out there for the film. The Internet trailer that plays "In the Air Tonight" by
Phil Collins
over the entire trailer... it almost changes the entire tone of the film. In a comedic way it transforms the film into something dark and mysterious. Did you see that one?
Ed Helms:
Oh yeah, of course. Well, that was not an accident. The movie has a lot of tonal texture. There's parts of it that are pretty silly and some parts that could almost be construed as poignant and a lot of parts that are just, sort of, dark and weird and maybe even a little scary. I think, ultimately, it all kind of served the purpose of, hopefully, being funny.
Mike:
What was it like working with The Champ?
Ed Helms:
Unbelievable! It's. Mike. Tyson. for Christ's sake! I'm of the age...
Mike:
We were born the same year so I'm right there with you to what Tyson means to people our age.
Ed Helms:
He was just such a massive part of pop-culture as I grew up and to actually hang out with him, let alone work with him, was amazing. He really surprised me, I had no idea what to expect -- I think it's safe to say I was a little intimidated to meet him -- but he has a really disarming energy and makes you feel comfortable pretty quickly because he's just super genuine. And also what was a little surprising was just how trusting he was; he got on board with the movie so quickly. When he got to the set he was so eager to have fun and be playful. And he trusted Todd's direction and trusted us, you know, the other actors in the scenes with him. He improvised... he showed up just ready to work and have fun.
Mike:
Growing up when I did he meant so much to me as a kid -- and it's unfortunate what happened -- but just seeing him in your movie makes me happy for a lot of reasons but I think the main one is that he's finally reached a place in his life that it seems he can relax and have fun.
Ed Helms:
Yeah. Look, that guy has had an unbelievable life. It's something few people, if any, could possibly relate to. And yet, he's managed to stay a pretty relatable person. Like, he's actually approachable and has this sort of genuine graciousness that I found surprising. Yeah he's (laughs), he's The Champ. What more can you say?
Mike:
Why do you always seem to invoke music in to your characters.
Ed Helms:
For two reasons. One, music is just such a huge part of who I am; I've been a musician my whole life. I love music. I also think music can be extremely funny; especially when it's very inappropriate. There is nothing so funny to me as a Broadway show tune belted out at the wrong time. I feel like music has this incredible power. It can be beautiful, it can be sad, it can be romantic, it can be uplifting and it can also be glaringly inappropriate and hilarious. I did it in a lot of my
Daily Show
segments, going way back; Andy Bernard [from
The Office
], of course, has some musical moments... so, yeah, I just like it. It's fun.
Mike:
How was Stu's, your character, missing tooth done?
Ed Helms:
(Laughs) By the way... this is the last interview on a three day junket...
Mike:
Well, then I appreciate you doing this. It it were me, by this point, I'd probably have said, "Screw it." Thank you, sir.
Ed Helms:
Oh no, of course, it's my pleasure; but it's been a crazy few days. But
that
question has been so front and center, it's really funny. The answer is that it's totally real. I had an implant put in when I was 15 and cut to 20 years later the script called for my character to have a missing tooth. We did some screen tests with blacking it out, trying a prosthetic thing that looked like a missing tooth and none of it worked. I mentioned that I had this implant and they're like, "Do you think it could work?" I called my dentist and said, "Can we take this implant out?" He said, "I don't see why not." So he broke the crown, took the post out and we left it and I was toothless for three months while we shot the movie.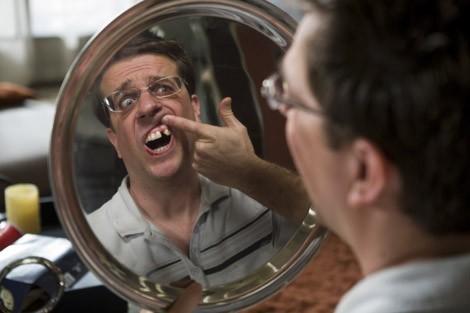 Image © Warner Bros.
Mike:
Wow! Didn't
Jim Carrey
do something like that for
Dumb And Dumber
?
Ed Helms:
(Laughs) Yeah, he sure did. He had a chip, though.
Mike:
That's right, he had a chip; you took it to another level. Are you surprised or even realize how popular Andy Bernard has become? As an example: I went to the University of Missouri and they played Cornell [Andy's alma mater] in the first round of the men's basketball NCAA tournament. I received at least 25 emails with some sort of Andy Bernard quote taunting me.
Ed Helms:
(Laughs) Someone told me there is a picture of Andy Bernard in the football locker room. I don't know if that's true or not (laughs); it's kind of insane. It's a thrill to see that kind of recognition and to know that people think Andy Bernard is funny, at least I hope that's where it's coming from. But I'm really proud of that character and it's really fun to be a part of that.
Mike:
Rob Riggle's
in
The Hangover
; he always makes me happy when I see him.
Ed Helms:
I love Rob Riggle. I've known him for many years.
Mike:
I
interviewed Aasif Mandvi
from
The Daily Show
and when I asked him about Rob leaving the show he said, "I personally was delighted because my body could heal from the bruises."
Ed Helms:
(Laughs) Yeah, I think Riggle's humor is like a grizzly bear on crystal meth. He's such a bombastic, hilarious energy. And he's an old friend and I just adore him and he makes me laugh so hard, everything he does. I'm so glad, he absolutely destroys his work and he absolutely destroys a scene or two in this movie. And even in the trailer, he just totally pops out of that trailer, (mimics Rob Riggle) "In the face!!" (laughs).
Mike:
Okay, last thing, and this is a reader question. The funny thing was the most frequent question was something along the lines of, "Ask him to sing something a cappella," which is odd considering this is in print, but, here's the second question: What do you see coming up for Andy in season six of
The Office
?
Ed Helms:
Gosh, I'm going to totally disappoint you, I have no idea. The writers are just now breaking those stories. Since my romance with Angela and my tension with Dwight got, sort of, wrapped up I have no idea what's going to happen. I think there's some fun places to go. We've got that new receptionist, Ellie.
Mike:
Oh, she's for sure back next season?
Ed Helms:
I don't know, but I really like her and I'd love for her to stick around. But, also, the friendship with Dwight, it just seems like so many possibilities there, too. We'll see what happens.
Mike:
Congratulations on completing a three day marathon session of interviews!
Ed Helms:
(Laughs) Thanks! And I'm psyched for you to see this movie, I think you're going to like it. We're really proud of it.
The Hangover opens Friday June 5.
Click the pics for The Hangover's gallery:

"Mike's Pulse" is a column written by transplanted Midwesterner and current New Yorker Mike Ryan. For any compliments or complaints -- preferably the former -- you may contact Mike directly at miker@starpulse.com
or submit reader questions for celebrites to Mike on
Twitter
.