Exclusive Clip: Arnold Schwarzenegger In 'The Last Stand' (Video)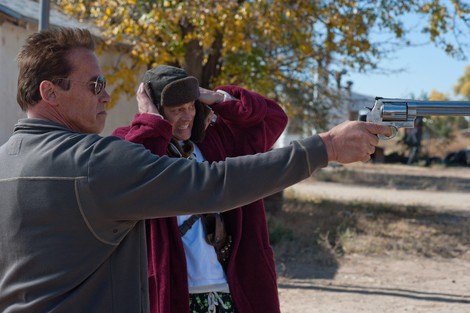 Arnold is back and at the top of his game in Lionsgate's action packed movie 'The Last Stand.' Arnold stars alongside Johnny Knoxville in a film that starts 2013 with a bang! Check out both stars in this brand new kick-butt clip.
This all-star cast includes Arnold Schwarzenegger, Johnny Knoxville, Forest Whitaker, Eduardo Noriega, Rodrigo Santoro, Jaimie Alexander, Luis Guzmán, Peter Stormare, Zach Gilford and Genesis Rodriguez.  
 
'The Last Stand' hits theaters nationwide January 18, 2013.

Movie Summary:
A border-town sheriff pulls out the heavy artillery to prevent an escaped drug kingpin from blasting his way into Mexico in this sun-scorched action opus starring Arnold Schwarzenegger and directed by Kim Jee-Woon (I Saw the Devil, The Good, the Bad, and the Weird).

His reputation in the LAPD tainted following a botched assignment, disgraced cop Ray Owens (Schwarzenegger) retreats from the city to become sheriff of Sommerton Junction -- a small town on the U.S./Mexico border. He's just adjusting to life at a more leisurely pace when infamous drug-kingpin Gabriel Cortez (Eduardo Noriega) stages a daring escape from an FBI convoy, and sets his sights on Mexico. With a hostage to guarantee his safe-crossing and a violent mercenary named Burrell (Peter Stormare) clearing him a path to the border, Cortez races south in a custom Corvette ZR1 that can outrun anything on the road. Meanwhile, Agent John Bannister (Forest Whitaker) realizes that should Cortez manage to slip through Sommerton Junction, he may well be lost forever. At first it seems that Sheriff Owens' team will be no match for Cortez's speeding juggernaut. But when Owens decides to stand his ground with the help of Sommerton Junction's finest, Cortez comes up against an immovable force with enough firepower to stop him dead in his tracks.