Evolution And Artistry: Raja Speaks Out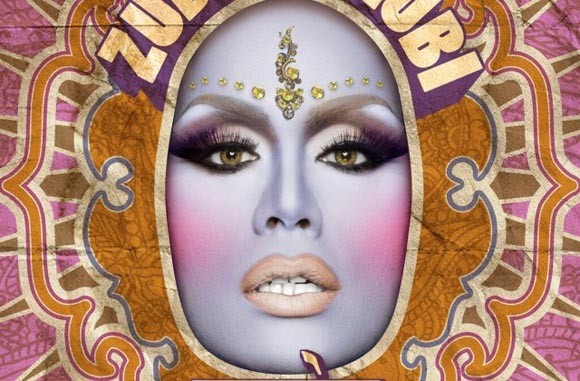 "RuPaul's Drag Race" Winner Raja sat down with Jeza Belle for an extended interview that covered everything from what life has been like since winning the prize on the hit television show to her views on the rash of anti-gay violence in New York City. Raja, a long time make-up artist to the stars who worked on "America's Next Top Model" for a number of seasons, exploded onto the scene with her artistic drag and continues her evolution with her new summer single, "Zubi, Zubi, Zubi".   
Tell our readers what you have been up to:
Mostly panicking! There's this level of angst that you have as an artist that never really disappears. It's the insatiable desire to do something interesting. I'm doing music right now, writing, performing, re-thinking my performance, re-inventing, and playing dress up and pretend. Essentially, I'm just being me and loving it!
How did winning "RuPaul's Drag Race" change you, if at all?
It definitively lit a fire under my ass. Being artistic always came naturally and that can make you complacent. My make-up career was coasting along but I was frustrated with it because I felt like I was the one who should be in front of the camera. Winning "Drag Race" was a blessing because it put me out in front as a public figure and now I am always reminded I need to do something with that spotlight and not take it for granted for a minute! People don't realize what a struggle it is after the fact to stay afloat in this growing herd of characters and winners now that the show has been around for a while.  You have to set yourself apart.
One way that you have set yourself apart is through your evolving look which has made you known as the chameleon of drag…what inspires you to keep reinventing that look?
That's because I have major A.D.D. and I am a Gemini! As a kid I was always a day dreamer and got in trouble a lot for escaping into worlds. I still do that today. Doing drag is a great way to express what's in my head.  It's the chance to act out my imagination.
Who are your inspirations?
John Waters, Anna Piaggi, Dita Von Teese, Iris Apfel, Diana Vreeland, Klaus Nomi , Hulk Hogan and Richard Simons!
One of your most current ventures "Sutan's Everything" features Adam Lambert Guitarist Tommy Joe Ratliff. How did the videos come about and what do you hope people take away from the tutorials?
I was at a point with make-up right before "Drag Race" that I was frustrated. The last time I remember doing make-up before going on to the show was waiting back stage for Adam Lambert at the Powder Puff in a bucket of glitter. I loved the clients I worked with but I knew then I really had to be out on the stage on my own. It's only now that I'm getting back to my make-up and really marrying the best of both of my worlds; make-up and drag! They are less tutorials and more an opportunity for people to see the process behind my art,and how it transforms people. Also, the videos give me an opportunity to feature my friendships, because without them I wouldn't be who I am today.
Tell our readers about your new single "Zubi, Zubi, Zubi":
I'm excited about it! I collaborated with Matt Katz-Boen from the band Blondie. When I first created Raja, I was very into all things Eastern and global; jewel-tones etc. This allowed me the opportunity to revisit those themes with a very rock, disco, Scissor Sisters feel mixed into a fun, upbeat summer song.  
There has been a rash of violence against members of the gay community in NYC, as an "Urban Queen" that lives in Los Angeles, what is your reaction to this?
New York is a lot like Los Angeles. Here in West Hollywood it's like a wolf in sheep's clothing. We have to be alert no matter where we are. Plus I come from a time where open gayness was not a common as it is today so I'm always aware of my surroundings. Also, because we are so visible today it is almost natural that there is a backlash when something new takes place.  Every change causes a reaction. That's human nature. But, we have to be smart, be aware, be an example of sanity and be prepared to defend ourselves wherever we are at.  Again, I come from a time where being gay equaled being strong. We always had to watch our back and we need to not forget that it wasn't that long ago.
Let's Dish:
As a well known make-up artist, what is the one thing no drag queen should be without?
Lashes! False lashes are my little luxury and I never wear a pair twice.
A woman's best feature is?
Her skin! It's soft and smooth.
A man's?
Sorry but I have to say it…his ass! I'm terrible but that really is it.  
Define success:
Evolution! If I continue to change, evolve and transform then that is success for me.
Finally, tell our readers what's in store for the future:
A lot of laughter, friendship, color, glitter and magic. The future is always uncertain but I'm going to keep stumbling towards that colorful direction…probably wine-drunk! 
For more information on Raja, follow her on the Raja official website.