Everything You Need To Know About The End Of 'Lost' Is In This Week's Special Collector's Edition Of EW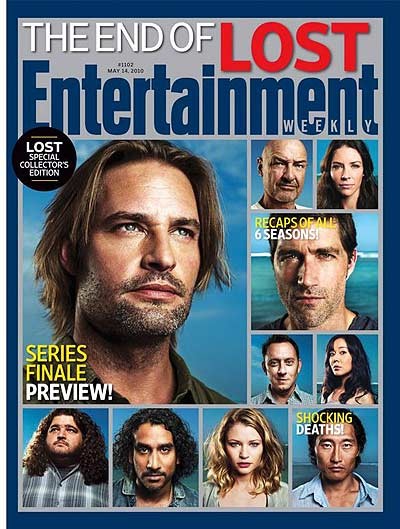 Entertainment Weekly has been obsessing over "Lost" since it first premiered in 2004, and now that the end is near they have put together the ultimate handbook to get viewers ready for the remaining episodes before the series signs off. From the big finale preview (Entertainment Weekly was on set) to recaps of every season to an oral history of how it all began, this week's special collector's issue has the entire Island covered.

For the filming of the pivotal sequence that's part of the final 10 minutes of "Lost's" two-hour series finale, nearly two dozen cast members are in attendance, including several who aren't in the scene but wanted to be there for the experience. "Never have more actor trailers been brought together in one place, maybe in the history of showbiz," quips Michael Emerson, who plays Ben.

As the actors say goodbye, they look to the future. Josh Holloway says: "Movies, my friend. I'm going to give it two years. If it doesn't work out, I'd love to make another TV show. I just want to give movies a shot. It's now or never. If I do another show, it's another seven-year contract, standard. That's a big commitment at this point in my life. I'd like to hop around a bit."

Matthew Fox feels the same way - but more so. "All told, I've done about 275 hours of television. I won't be doing any more television. If I can't find a way to work with really great filmmakers that I respect and admire and be part of movies I want to see in a movie theater, then I'll probably be doing something else. It's not about some bulls---- snobbery about TV. It's about flexibility. I think that's what's best for me as I enter the next portion of my career."

On the other hand, Terry O'Quinn would love to jump into another TV series. "The six years have gone by so fast," he says. "It's been a buzz for me, and it's inspired me to want to do more television. I love it. People say, 'You should do movies!' I go, 'What's wrong with what I'm doing?'" And Daniel Dae Kim is hoping to stay on TV - and in Hawaii. He just finished shooting a pilot for CBS' rebooted "Hawaii Five-O." "My family loves it here, and I was looking for a way to be on a quality TV show," says Kim. "Hawaii Five-O fills both slots really well."

But it is unlikely any of the cast will ever work on another project like "Lost." It was a show that broke all sorts of TV rules - from its racially diverse cast to a serialized storytelling format that both attracted and alienated viewers. As for showrunners Carlton Cuse and Damon Lindelof, they plan to go into "radio silence" after the last episode - but not forever. They promise to reemerge at some point and discuss many of their choices concerning the end of "Lost," which they say is designed to be both emotionally satisfying and open to interpretation. They're hoping people will be happy, but they suspect there will be blowback. Either way, they are pleased with their work, and want to let it go without comment or apology - for now. "The legacy of the show is community - a community that was formed by a discussion of the show, specifically in pursuit of a question, 'What did it mean?'" says Lindelof. "What it meant and what it means to people are two different things. So we're going to keep it clean for a while."

But if Matthew Fox is to be believed, the finale speaks volumes. "I think it's beautiful," says the actor. "If we all did our jobs right, I really feel it's going to be terribly sad, but at the same time be really cathartic and full of hope. It has the potential to be really profound. I will say this: It's not going to be what anybody thinks it is. I know a lot of people have written a lot of theories about how this will all end - and I'm pretty sure nobody guessed it." (Cover Story Package, Page 21)

Death From Below: Sun, Jin, And Sayid

Lindelof and Cuse suspect viewers might be hating their guts right now, for downing Jin, Sun, and Sayid. Why did they have to die? "Because now you know this show is willing and capable of killing anyone," says Lindelof. And why is that so important? To establish once and for all that the Locke-ness Monster (O'Quinn) is the true villain of season 6 and quite possibly all of 'Lost.' "There is no ambiguity," says Cuse. "He is evil and he has to be stopped."

There are other reasons, too - reasons that will become apparent by the finale. "Still, it's bittersweet," says Yunjin Kim. "They were kept separate for so long, and then they come together to die together." Adds Daniel Dae Kim: "They were the Romeo and Juliet of the show, and the fact that they didn't have a happy ending does make it sad." But he says the actors were kept comfortable while shooting their watery death. "Shooting in the water is never easy, but the crew was considerate and made the water warm for us, in more ways than one."

The Dead Zone

The end came far too soon for some of these island dwellers. Some dearly departed Losties take a moment to reflect on their unfortunate fate. Elizabeth Mitchell's character Juliet died from injuries after falling into the Swan station's pit and detonating the Jughead hydrogen bomb. "That was my very last scene to shoot, so it was actually a really sweet thing because everybody came to say goodbye," she says. "Jorge [Garcia] brought champagne, and Josh [Holloway] and I cried and screamed a lot. It was a really long tunnel, so I was all done up with wires. Josh was still able to almost pull me out!"

Ian Somerhalder found irony in his death - he suffered massive injuries when the tree-lodged plane that he was in fell to the ground. "The irony aspect of it kind of killed me - literally," he says. "I joked to [exec producer] Damon Lindelof, 'I fell 30,000 feet out of a [jumbo jet] and survived. And then I fell 30 feet out of a Beechcraft and died.' I always pondered how that was possible."

When Rebecca Mader (who plays Charlotte Lewis) found out she would die while out on the town. "I was in a pub, which is a good place to get the news because then I got really drunk," she recalls. "I was disappointed because when I found out she was going to die, we still hadn't found out who she was or why she was on the Island."

More From Ew'S Lost Guide

Plus: The definitive guide to the series' complicated relationships, a look at some of the drama's most shocking deaths, an oral history of the monumental pilot, recaps of every single season, a photo tribute to the dearly departed, and EW's complete A-to-Z glossary of the most intriguing elements of the Lost universe.

Get the full story and a whole lot more in the new issue of Entertainment Weekly. And check out the gallery with all 10 different cover images at EW.com!
Click for more great "Lost" pictures: