Everyone Orchestra Fall Mini-Tour Hits The Northeast

Interactive, improvisational experience,
Everyone Orchestra
has added Scrapomatic, featuring
Derek Trucks
Band lead singer Mike Mattison and singer/guitarist Paul Olsen, to support the six city Northeast tour beginning October 3 at Pearl St. in Northampton, MA.
The R&B duo will release "Alligator Love Cry" (Landslide) on October 3. Produced by five time Grammy Award winner John Snyder, the band's second CD lays down a solid foundation of potent blues, overlaid with a stunning mixture of highly charged vocals, New Orleans jazz derivations, sweet soul music and even a memorable taste of 50's scat singing.
Also signing on for the first three dates of the tour is Julee Avallone, a veteran of
Phish
bassist Mike Gordon Band, on horns and vocals. Avallone joins a cast of all star musicians, including EO founder/conductor Matt Butler, Phish drummer
Jon Fishman
, JMP string wizard Jamie Masefield, multi-instrumentalist Peter Apfelbaum (Hieroglyphics Ensemble;
Trey Anastasio
), SKB and Jacob Fred Jazz Odyssey bassist Reed Mathis, Zilla hammered dulcimer player/percussionist Jamie Janover, guitarist Scott Law, and keyboardist Asher Fulero. Guitar legend
Steve Kimock
and
Flecktone
saxman
Jeff Coffin
join October 6 at the Recher Theater in Towson, MD for the balance of the tour.
Supporting Everyone Orchestra's commitment to activism, non-profit Conscious Alliance will be staging a food drive at each tour stop, making donations to local food banks. Concert attendees are encouraged to bring at least 10 non-perishable food items for which they will receive an original, limited edition, art tour poster by Robert Marx, in exchange. Check it out here: www.marxmarx.com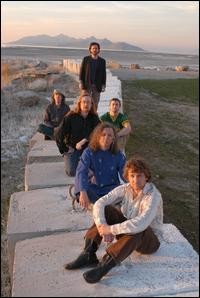 In addition to the food drive, Everyone Orchestra and Conscious Alliance are teaming up to raise funds and fun by 'orchestrating' a raffle to win a spot to be the guest conductor for a jam. Past conducting raffle winner Molly McGee had this to say about the experience: "Thanks again for letting me share your spot for a few minutes conducting on JamCruise. That was the true highlight of my trip for sure - and there were a lot of highlights!"
Embracing the colorful tradition and presenting a different aspect of the "Everyone" in Everyone Orchestra, local live painters from each city on tour will join the Orchestra to paint the scene live as it unfolds. These paintings will be available for sale at the end of each show, with a portion of the proceeds donated to Conscious Alliance.
What makes Everyone Orchestra music stand out from other jam band collaborations is the conducting and audience participation. EO founder/conductor Matt Butler facilitates the jams using giant cue cards, hand signals and more, which direct the musicians and audience alike in flowing, playful and incredibly dynamic co-creations.
The list of Everyone Orchestra alumni reads like a who's who of jam band music and beyond including members of
The Grateful Dead
, Phish, moe.,
String Cheese Incident
, Derek Trucks Band,
Railroad Earth
, Hot Buttered Rum,
Tea Leaf Green
and
Jimmy Herring
,
Darol Anger
,
Adrian Belew
,
Taj Mahal
,
Maria Muldaur
among a growing legion of other performers. Butler's version of breaking down the barriers between musician and audience derives in part from desert art festival Burning Man's 'no spectators, only participants' ethic and is undoubtedly influenced by his old friend and mentor
Ken Kesey
, the king of the Merry Pranksters.
"With six dates with the same cast of players we're going to expand the repertoire of the improvisational games we play in EO and see how far we can take it." -- EO founder/conductor, Matt Butler
EVERYONE ORCHESTRA FALL TOUR DATES:
October 3 Pearl St. Northampton, MA
October 4 The Paradise Boston, MA
October 5 Toad's Place New Haven, CT
October 6 Recher Theater Towson, MD
October 7 State Theater Falls Church, VA
October 8 House of Blues Atlantic City, NJ