Everyone Orchestra Conducted By Matt Butler Coming To Northeast In October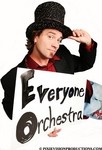 Everyone Orchestra
is hitting East Coast stages in October within an exciting edition assembled from a rotating cast of all star musicians, including E/O founder/conductor Matt Butler,
Phish
drummer Jon Fishman, guitar legend
Steve Kimock
, string wizard Jamie Masefield (Jazz Mandolin Project), saxmen Jeff Coffin (The Flecktones) and Peter Apfelbaum (Hieroglyphics Ensemble;
Trey Anastasio
), bassist Reed Mathis (Jacob Fred Jazz Odyssey, Steve Kimock Band), and hammered dulcimer player/percussionist Jamie Janover (
Zilla
), guitarist Scott Law, keyboardist Asher Fulero and more.
What makes Everyone Orchestra performances stand out from other jam band collaborations is the conducting and audience participation. Butler facilitates the jams using giant cue cards, hand signals and more which direct the musicians and audience alike in flowing, playful and incredibly dynamic co-creations.. And you never know just who might drop in on any given night.
The list of Everyone Orchestra alumni reads like a who's who of jam band music and beyond including members of
The Grateful Dead
,
Phish
,
moe.
,
String Cheese Incident
,
Medeski Martin & Wood
,
Derek Trucks Band
,
Railroad Earth
, Hot Buttered Rum String Band,
Tea Leaf Green
and
Jimmy Herring
, Darol Anger,
Adrian Belew
,
Taj Mahal
, Maria Muldaur among a growing legion of other performers. Butler's version of breaking down the barriers between musician and audience derives in part from desert art festival Burning Man's 'no spectators, only participants' ethic and is undoubtedly influenced by his old friend and mentor
Ken Kesey
, the king of the Merry Pranksters.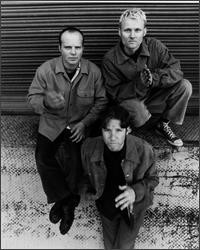 The impetus for the Fall '06 tour evolved out of numerous benefit and festival dates where the cast of musicians and the audience were left hungry for more. "Often, the group is just starting to really hit its stride together, and then these 'one-off' shows are over. Short tours like this one, and others in the works, will allow the musicians to stretch themselves and the boundaries of the improvisational games we play," says Butler.
Keeping with EO's activist commitment, not-for-profit Conscious Alliance will join EO at each tour stop to host food drives to help feed America's hungry. Attendees are encouraged to bring ten non-perishable food items in exchange for a limited edition tour poster. For more information and details visit www.consciousalliance.org.

Based in Eugene, OR, Everyone Orchestra made its east coast debut last March at Snoe.down, the Lake Placid, NY winter festival hosted by moe. Since then, E/O has appeared at numerous festivals including Green Apple Music Festival, High Sierra Music Festival, Smilefest XII, Harmony Festival, , the Oregon Country Fair and 10,000 Lakes Festival. On Saturday, August 19, Butler will conduct a late night ensemble to include Vinnie Amico, Taylor McFerrin, Julee Avallone and Ryan Montbleau at the Gathering of the Vibes in Mariaville, NY.
A July run of Bay Area shows yielded some amazing jams which were recorded and will be released in the near future.
"I've been part of several memorable EO shows over the past few years and enjoy the energy and music that flows from Everyone Orchestra concept. What makes Everyone Orchestra performances stand out is the conducting which really creates an exciting synthesis with the band and audience. " -- Steve Kimock
"If you can't enjoy this..." -- Jon Fishman
EVERYONE ORCHESTRA FALL TOUR DATES:
Oct. 3 - Pearl St. - Northhampton, MA
Oct. 4 - The Paradise - Boston, MA
Oct. 5 - Toad's Place - New Haven, CT
Oct. 6 - Recher Theater - Baltimore, MD
Oct. 7 - State Theater - Falls Church, VA
Oct. 8 - House of Blues - Atlantic City, NJ
Cast of players for Everyone Orchestra, 10/3-8:
Matt Butler - Conducting, Percussion/Drums
Peter Apfelbaum - Horns
*Jeff Coffin - Saxophone
Jon Fishman - Drums
Asher Fulero - Keyboards
Jamie Janover- Hammered Dulcimer, Percussion
*Steve Kimock - Guitar
Scott Law - Guitar, Vocals
Jamie Masefield - Mandolin
Reed Mathis - Bass
Plus Live Painting and Special Guests
*Steve Kimock & Jeff Coffin appear October 6, 7 & 8 only