Evanescence's Amy Lee To Receive Charity Award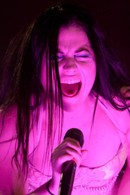 Evanescence star Amy Lee has been honored with a special award from a charity for her commitment to community projects.

The singer is to pick up the Luella Bennack prize in New York in May at United Cerebral Palsy's Women Who Care luncheon, which celebrates women who have given up their time to help "community projects and charities."

A charity representative says in a statement, "The committee has selected Amy for this award for her commitment to bring attention to issues of education and personal dignity of people living with a disability by serving as the international spokesperson for (epilepsy awareness charity) Out Of The Shadows."

"Also, the message and integrity of Amy Lee's music has undeniably healed, inspired and transformed millions of women worldwide."

The awards were set up in honor of Luella Bennack, who dedicated over 20 years of her life to helping disadvantaged children and adults with cerebral palsy.