Evan Rachel Wood Hopes Her 'Coming Out' Will Help Other Bisexuals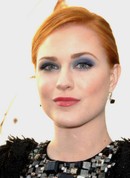 Actress Evan Rachel Wood hopes her decision to 'come out' as bisexual will help others struggling with their sexuality to realize they are "totally normal".

The Across the Universe star, who is currently rumored to be dating British actor Jamie Bell, revealed she is bisexual in an interview with Esquire magazine earlier this year.

Wood credits other openly gay stars with inspiring her to talk freely about her sexuality, and hopes she can reassure anyone else questioning their orientation.

She says, "It's a big part of who I am and growing up when I was feeling unsure about myself and my feelings, I would hear about actresses I looked up to being very open about it.

"So if I can return the favor and somebody who is freaking out and confused about themselves can hear: 'You're not the only one and this is totally normal and fine and there's nothing to be ashamed about' then right on."