Eva Mendes Had Certain Tricks To Look Old For 'Place Beyond The Pines' Role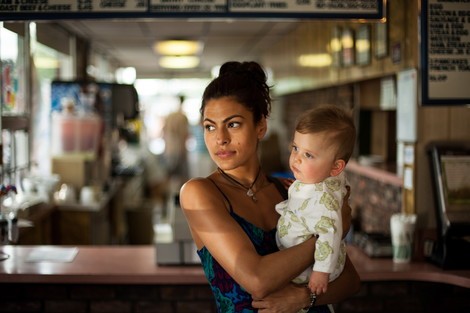 In order to play a haggard, single mom in upcoming film "The Place Beyond The Pines," Eva Mendes shaved back her eyebrows and dug out ill-fitting jean shorts from her teenage years.
She told WENN, "I wanted to make sure that you could see it on her face and on her body. I did certain little tricks that I'd like to keep secret to make sure I looked haggard and that time had its way with me. I did the obvious greying of my hair, but one of the tricks I did was to shave down my eyebrows to a very, very thin point which I don't really recommend for an every day look.
 
"When you want to change your face a bit and look a little insane, it actually works. I wanted it to come from an emotional place rather than going into prosthetics. She goes from her 20s to her early 40s and there is a difference there but it's not as drastic and we didn't want the attention to go to, 'Oh my God, is that her?'
"A little tidbit: those horrific jean shorts that were so God awful were mine from 1992. They were a little ill fitting, ripped on the sides and needed some tweaking and that's what I wanted for her; she's raw."
The film opens in theaters March 29 and focuses on a high-wire motorcycle stunt performer who reconnects with his former lover, Romina, and learns that she has given birth to their son, Jason. He winds up robbing banks to support them.