Eva Longoria's Butt - A Photo Tribute

Eva Longoria
once said of her butt, "It's shapely and has served me well," and we couldn't agree more! Check out the most recent photos of Eva Longoria's booty, plus some of our favorite pics of her backside below...
Eva showing off her sexy curves leaving Katsuya in Hollywood earlier this week: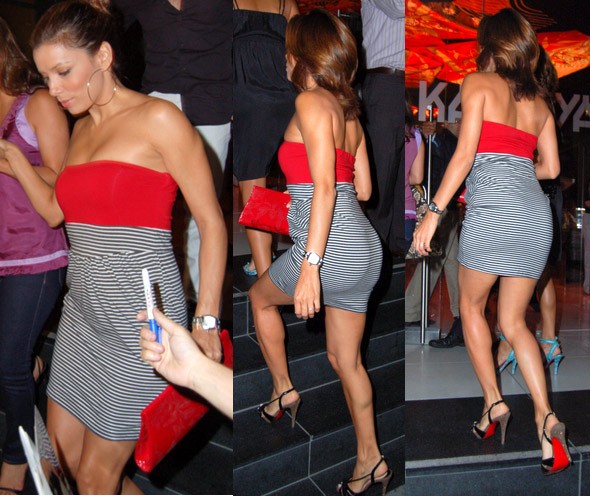 Opinionated and outspoken
Desperate Housewives
Latina starlet Eva Longoria is almost as well known for her risqué sense of style as she is for her interesting quotes. Mrs.
Tony Parker
is not only beautiful and talented; she does have a way with words. Here's a small sample of some of the more appealing and attention-grabbing quotes from the uber-hot actress.
Eva about her small rack, "I would much rather have a butt than boobs, I like being small - I've known so many women with big boobs who feel overweight or end up with back problems."
Eva on Politics, "I think everybody on Wisteria Lane has the money of a Republican, but the sex life of a Democrat so it's a really political show."
Eva's Bedroom secrets, "I'm not averse to being tied up with silk scarves, I like a man to take charge. There's something very sexy about being submissive. Because your guard is down, you have to totally surrender to something like that."
Eva on her sex life, "The best sex I have ever had was with my vibrator."
Eva's turnoffs, "I find it a turnoff whenever men aren't into some kind of sport. And, no, video games don't count. I dated a guy who was into video games, and I wanted to shoot myself."
Eva's role models, "I'm like Blanche" on "The Golden Girls". I have a good head on my shoulders but, once in a while, a man will come and knock the sense out of me".
Images © PR Photos
Story by Max Fischer
Starpulse contributing writer