Eva Longoria Shows Lots Of Skin In A Hot Lingerie Pictorial For The December GQ Mexico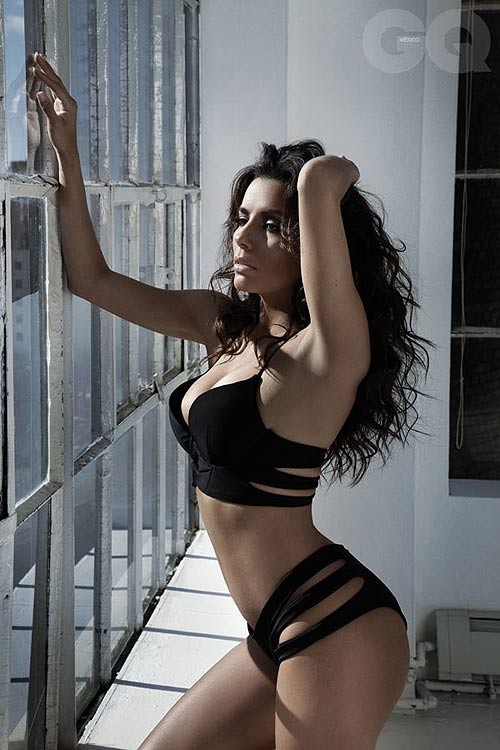 Eva Longoria is looking pretty amazing at 37.

The former Desperate Housewives star sizzles in a new pictorial for the December GQ Mexico shot by Randall Slavin.

While Eva sizzles showing off her outer beauty on the pages of the magazine, she discusses inner beauty also, hoping people see her as beautiful all around.

"Ah, I always feel flattered when I say that!" she laughs when she talks about being considered one of the world's sexiest women.

"I hope people perceive me as beautiful in everything I do in relation to works of charity and philanthropy, or political activism," she adds. "For me, those are the things that define beauty. The beauty lies mainly on personality, not on skin."

Speaking of her political activism, Eva came under fire in October for re-tweeting one of her followers' messages and then skirting around the issue; saying her twitter was "bugging out" that day.

"I have no idea why any woman/minority can vote for Romney. You have to be stupid to vote for such a racist/misogynistic tw*t," the original tweet said.

But Eva quickly deleted the post and apologized for re-tweeting the hateful words.

"I use Twitter as a platform for all Americans and their opinions. Sorry if people were offended by retweet. Obviously not my words or my personal view. I respect all Americans #FreedomOfSpeech," she wrote; later adding, "And for the record I have never personally called any conservative women stupid. I think u are all beautiful and strong and smart! I appreciate those conservative women who have sent me some great articles! I respect u, stay involved!"

Later that day she finally admitted she re-tweeted the message and it wasn't a twitter glitch.

"I retweet many people I don't agree with for the purpose of discussion and dialogue, that's democracy...and boy did this create dialogue!" She wrote.

On a lighter note, the native Texan, born to immigrant Mexican parents, loves jetting off to Mexico as much as she can.

"I'm going to Mexico whenever I can... I'm about to start filming at the border, with Ed Harris and Michael Peña: we will shoot in New Mexico and the plot has to do with the border issue, precisely. It is a film that tries to address, from a more humane approach, the struggle of people crossing into [the U.S.] in search of work."

Check out Eva in the new issue of GQ Mexico and at GQ Mexico.com.