Eva Longoria Says Cast Of 'Desperate Housewives' Gets Along, Plays Down Recent Teri Hatcher Snub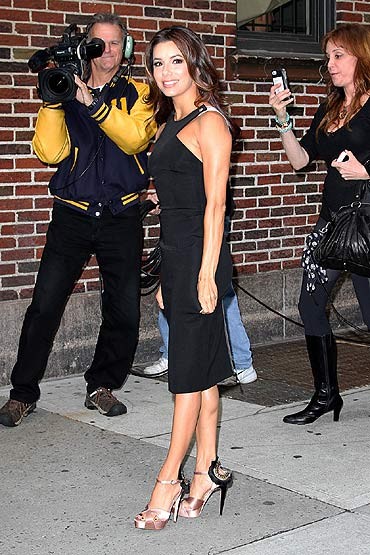 Desperate Housewives star Eva Longoria looked sexy in a black dress and high heels on her way to the Late Show With David Letterman Wednesday afternoon.

Housewives will take its final bow this Sunday night, and and Eva revealed that the cast gave out carry-on luggage to the show's crew at the wrap party, with all of the bags including the message, "Just know that on all your future adventures you are carrying a little piece of our love and gratitude. Thank you for a magical 8 years. Love, Eva, Marcia (Cross), Felicity (Huffman) and Vanessa (Williams)."

Notice anyone's name missing?

Celebuzz.com reports that a production insider from the show confirmed that most of the cast of the show doesn't get along well with co-star Teri Hatcher.

"The girls don't get along with Teri so they organized this and left her out," the source says.
The recent luggage incident isn't the first time there have been tensions among the cast - at a 2005 photo shoot for Vanity Fair magazine tempers and egos flared, nearly leaving the shoot in shambles after Longoria and Cross threatened to walk off the set if Hatcher was placed in the center of a sexy cast photo.

Letterman then broached the subject with Eva, which she found her way around. "How many Desperate Housewives are there?" he asks.

"There's four," Eva replies, "and then Vanessa joined us in the last two years."

"Do they get along? They don't all get along, do they... I thought there were fights and stuff," he added.
"I know, everybody says that!" Eva answered, downplaying the question. "We all get along."

The host also asked about the status of former Housewives star Nicollette Sheridan, who is currently battling producer Marc Cherry in court for wrongful termination and battery.

"Didn't one get fired?" he asked.

"Yes, yeah... I forgot about that one," Eva replied, laughing. "She didn't get fired - she died... she died on the show.. she just passed away!"

Check out the video of Eva's interview on Letterman last night below...