Eva Longoria On 'Ready For Love' And The Last Days Of 'Desperate Housewives'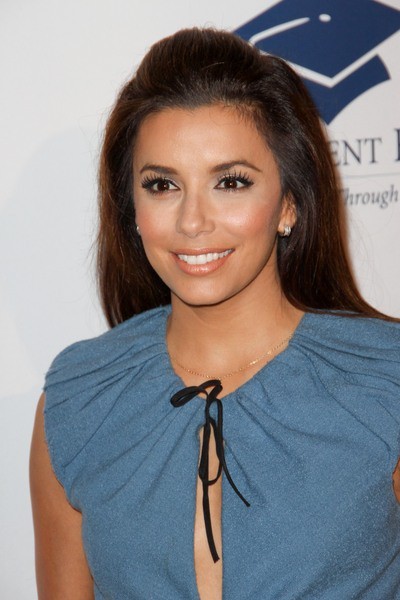 If you see Eva Longoria on The Today Show Wednesday morning, you'll meet the three men who star in her new show. Longoria is producing Ready for Love for NBC, a dating show with a plan to really find wives for these guys. The process begins on Today when the three men propose to America.
Longoria unveiled her show to the press the day before. With nothing but a picture of herself and the title to show, she answered questions about the three mystery men and how the women of America can meet them. Ready for Love begins shooting after the matchmaking process, with hosts Giuliana and Bill Rancic. Longoria also discussed the last week of filming Desperate Housewives.
Q: Are you going to be on the show?
Eva Longoria: No, I will not be on camera.
Q: How did you get involved with this and what appealed to you?
EL: This has been a really fun labor of love, no pun intended, exploring the relationship format. I've always been in love with love so I was in talks with NBC to produce some sort of relationship show years ago. I just wasn't really up to it until these guys came along and they brought this really contemporary modern format to relationships. So it was really appealing to me to be behind the camera and help develop it for NBC. We've been developing it for about seven month. It's a show that we have three awesome, eligible, handsome, funny gorgeous guys who are ready for love. We are going to have them propose to America tomorrow. So all of America will get to meet these three amazing guys that have my stamp of approval. I got to actually be part of a search across America. Three guys, very different, very diverse, from different parts of the country, different backgrounds, different successes. They're going to propose to America tomorrow and all of America will look at their profiles on Facebook, get to see a background video on them. Any women out there who'd like A, B or C will get to submit to be part of the show to look for love and really find love with one of these guys. The catch is they have to make it through our three matchmakers.
Q: Are you helping in that?
EL: I'm not a matchmaker. I'm a horrible matchmaker. I always try. I'm not very good. No, these are professionals. That's the great thing about the show. The reason why the show is great is it's a contemporary take because the way we date today in society and culture is internet, social media, matchmaker. There's so many different ways that are not reflected in relationship and dating shows today. This show is going to be innovative and refreshing in that. it's going to also be genuine. It's not so much focused on elimination. It's focused on a genuine journey to find soul mates for these guys.
Q: Are these matchmakers well known?
EL: It's amazing the matchmaker market. We didn't realize how many there were. There's a lot of them that you don't.
Q: Will the matchmakers talk about texting and social media?
EL: It's also how people date today. It's how people date today and is not reflected in television. We use the internet, we use friends, we use matchmakers, we use social media. So I think it's important that that component is part of the show.
Q: If you were not famous, would you go for something like this and call in to the guys?
EL: You know what, probably not. I was shy before being famous so I don't think I would ever put myself on television.
Q: So how do you expect other women to do it?
EL: Well, I think when you meet our three guys, the women will come running. They're just awesome, genuine guys that are just irresistible. I think that women are going to see this show not as a reality show but an opportunity to find love.
Q: What kind of women are the guys looking for?
EL: It's funny because the guys have three very distinct personalities. One is really shy, one is really outgoing. They're very different. We don't want to overproduce the guys or the girls. This is going to be a pretty good docu-reality series about what happens in a genuine match. The matchmakers also try to make sure you're not getting in your own way, girls and guys. When you go, "I want tall, dark and handsome," we've met a lot of matchmakers in the process who have very specific philosophies of how to pair people up and that's one of the things, thinking outside of your box and thinking outside of your type because you could be missing out on your soul mate if you think it comes in a blonde package.
Q: What about the guys you didn't pick to be finalists, where are they?
EL: I don't know. I want to hold them for season two. They were so good, I was like, "Can we have five? Six people?" It was very hard but the three guys that we have really pop and I can't wait for you guys to meet them tomorrow.
Q: Do you think Ready for Love would work the other way with three women and men call in?
EL: Absolutely. I think it's going to be fun when we do three women. I can't wait.
Q: If next season might be three women, could you eventually do same sex couples?
EL: Oooh. That sounds fun. Everybody needs a chance to find love.
Q: What were the must haves and must not haves for the men?
EL: That was based on them. We had a code word for when I didn't like the guy and I wanted to end the interview, because if within five minutes I was like, "I already know he's not."
Q: What was the code word?
EL: I'm not telling you.
Q: So the criteria you used?
EL: Yeah, I mean if when I said, "What's your philosophy on love?" And they wouldn't really have one or I said, "Why would you come on a show like this? Why would you be on a show like this?" And they were like, "I don't know, to be famous." Then okay, you're out.
Q: Would you date guys like this if they weren't on the show?
EL: Absolutely. Oh yeah, they had to have my stamp of approval.
Q: What does it take to get your stamp of approval?
EL: They thought I was crazy because I was like, "Nope, nope, next." I sat with so many guys and I really wanted to know A, if they're ready for love and how I know that is by what they tell me. I wanted to know what are your deal breakers in a relationship? What's your philosophy about love? Describe to me your perfect person? So there's a lot of interesting guys that answered some interesting things to those questions but the guys we ended up choosing, we actually had five great guys and we had to pick three. To get my stamp of approval was pretty hard. It was really hard. We also were looking for people who didn't want to be a reality star. We want somebody genuinely ready for love, that point in their lives where they go, "I've tried everything. Wow, I get to have a professional, healthy, I'm at that stage in life where this is what I want to do." That was important to me because I really want the authenticity of a show like this to not be about only entertainment. It has to be about that genuine connection.
Q: So what are your dos and don'ts?
EL: My deal breakers? I think one of the main things for me is sense of humor. You have got to not only make me laugh but have a sense of humor in life because I think laughter is healing. And family. All three of them are very family oriented. They have great families actually. All of them had role models within their families, strong parents, strong siblings, respected the mothers, respected their sisters. They were just genuine. When you meet them you go, "Oh, okay, I got it."
Q: Is there an age range they're looking for?
EL: We're not really filtering race, age or ethnicity because anybody could be the soul mate.
Q: Do you believe in soul mates?
EL: Yeah, absolutely.