Eva Longoria Helped Marc Cherry With Groundbreaking New Lifetime Series 'Devious Maids'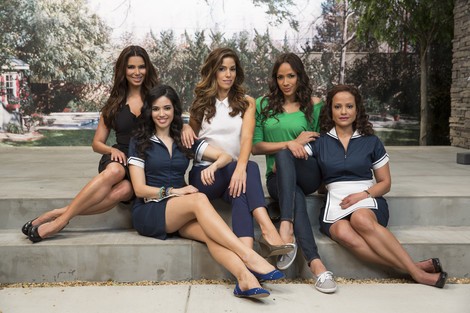 After agreeing to create a new TV show about Latina maids, writer Marc Cherry asked his former "Desperate Housewives" leading lady Eva Longoria for a crash course on Mexican culture.
"Devious Maids" premieres on Lifetime on June 23, and Cherry admits he wouldn't have been able to get the project off the ground without help from Longoria, who recently received her Master's degree in Chicano studies and agreed to executive produce the series.
He told the New York Post: "I knew I might raise a few eyebrows by casting an all-Latina cast. I thought that would be kind of groundbreaking. I knew I was going to be writing parts that were about multi-dimensional, fun, interesting, ambitious, somewhat flawed women. And I just thought, 'I know I'll get a little criticism, but I want to do this'.
 
"I also called my good friend Eva Longoria and said, 'I'm going to need some help learning about this culture - what things I need to stay away from, what things I need to stress.' So Eva came on board immediately."
In "Devious Maids," murder and mayhem go hand and hand in the mansions of Beverly Hills. Class warfare has never been as fun and dirty as it is in the tony enclave where the staff is as clever, witty, outrageous and downright devilish as their employers.