Eva Longoria and George Lopez Dish on the ALMA Awards
Actress Eva Longoria and comedian George Lopez are teaming up not for a Hollywood flick-but for one of the most important award ceremonies of the year. The duo are leading this year's ALMA Awards at the Pasadena Civic Auditorium, which serves to honor the top Latinos in entertainment. What can you expect from this year's fiesta? Aside from Longoria's whopping 11 dresses, a special tribute to songstress Christina Aguilera and a slew of stars celebrating their peers (think Zoe Saldana, Michael Pena, and Nicole Richie, just to name a few). In time for the show, which airs tonight at 8PM EST on NBC, Starpulse participated in a conference where Longoria and Lopez reveal how Latinos are taking over Hollywood.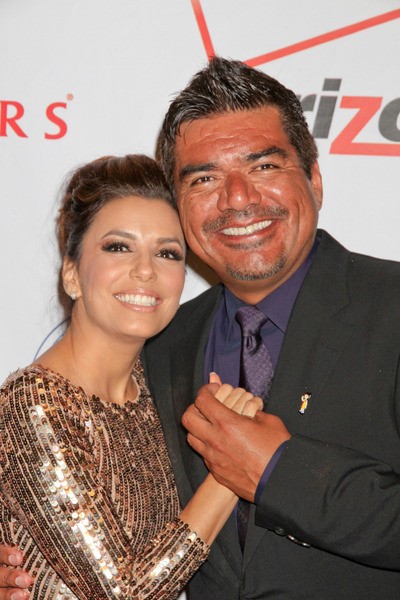 Eva, this is your fifth year producing the show. How did you come to be involved with the ALMAs in the first place? Are you a hands-on producer?

Eva Longoria: I've been involved with the National Council of La Raza (NCLR) for a long time; I think since 'Young and the Restless-' attending performances and really working with them as the largest advocacy group for Latinos in America. They do a lot outside of the ALMAs. We had an opportunity to bring the ALMAs back when they were away for a while. NCLR came to me and we kind of formed this great partnership that's been pretty successful. And yeah, I'm a pretty active producer.

How do you juggle that with filming and everything else?

Eva Longoria: It's crazy because I've been campaigning a lot for the President. And it's been great. It's usually harder whenever I was on 'Desperate Housewives.' That was a little harder. But, you make it work. It's a very important show.

How do you feel about the way Latinos are represented in the media?

Eva Longoria: You know, it's definitely improving. We have a lot to do. I think as a community we have to get behind the camera and we have to start creating our own stories and images. A great example of this is 'Devious Maids,' where I serve as an Executive Producer. Being able to put four lead Latinas on a show and telling the remarkable stories of these four complex women are examples of what we need to continue doing as writers, producers, and directors. We need to create our story.

George Lopez: And obviously, when you look at some other award shows they tend to be a little bit hard to watch and take. The ALMAs, on the other hand, are very colorful. It moves, it's funny, and it's vibrant. I think a lot of the other award shows suffer because they have a lack of vibrancy. And this one is on Mundos, Telemundo, and NBC. There are performers crossing over to other cultures. When you look at the American Music Awards, a lot of the time it's just a one-sided appeal.

Why do you think awards, like the ALMAs, are important for the Latino community?

Eva Longoria: The media tends to define a lot of things whether it's politics, political candidates, ethnicities, or communities. And so, at a time when some of those communities are under attack, the NCLR and our community is responsible for showcasing positive portrayals of Latinos in music, television, and film. We need to make sure we're putting our best foot forward and say this is what we look like. That's really what the ALMAs are all about. It's all of the great contributions made by many people in front of and behind cameras, microphones, and movie sets.

Is Hollywood getting better at giving Latinos exposure, as opposed to showcasing the usual stereotypes?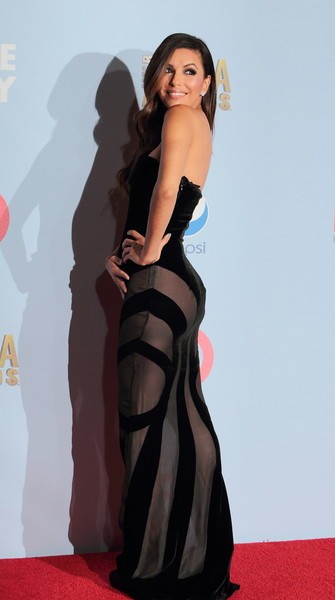 George Lopez: Well, I will say that with the ALMAs, you'll look at who's being honored and realize we're not secondary celebrities anymore. I don't think we ever have been. Our celebrity is on the same level of everyone else. If you look at Eva, she's a celebrity of the highest magnitude all over the world, not only in the Southwest of the United States of America. Christina Aguilera has tremendous success. And Pitbull is a musical director, composer, and performer of the highest level. These celebrities now are global and not just regional. That's an important thing to also realize. Latinos and the people we honor now are wildly successful. We're honoring them with our pride and we want everybody to see that.

You guys have hosted together for three years now. Is there going to be a new theme to make this year's show more different and positive?

Eva Longoria: Every year George and I mix it up because usually his comedy is pretty relevant to current events. This is a really big year obviously with the elections coming up. So we're usually current-event-related. One year we did a skit with Cheech & Chong and next year we'll do something else. But George can speak more to that.

George Lopez: Yes, everybody involved has always given us a free place to be a little bit political, but we don't cross the line because we're not trying to beat people over the head with a flag that says recognize us. Our work speaks for itself. But we also want to have fun in a room where it's our industry and talk about things that are relative to us. Personally, I love watching the RNC and the DNC politicians add a little Spanish to their English this year. And I would like to say that I've been doing that myself for 20 years to my success. In the melting pot that is this world and this country we are now, we have a little bit of meat in the stew. So in other words, we got it all covered.

At every award show you really have to up the ante to get viewers to tune in. Will there be any segments that are different from last year?

Eva Longoria: Every year we've done different collaborations with music. One thing we love to promote with the ALMAs is inclusion. This is an inclusive show. We celebrate diversity. And that means having a mix of presenters and musical performances. We always pride ourselves on those collaborations. And every year is different because we honor the past year. One year will be heavy with Latinos in television, another year will be heavy with Latinos in music. We are held to honor the most recent successes and people that are relevant in the past year.

This year, the ALMAs will be honoring the Olympics, correct?

Eva Longoria: Yes, the medalists, which is really great. Also Christina Aguilera. She's so relevant now because her show is really big and everything else that she's been doing philanthropically. We thought it was time to honor her and we're excited about it. Every year it's exciting because the show is kind of a blank slate; we have to start anew every time.

George Lopez: The ALMAs are also special this year because we get a chance to honor Lupe Ontiveros, who was a tremendous pioneer in television and movies. We get to show her family and fans how much we love Lupe and how much we miss her as well.

Not only are both of you hosting, but the two of you are also nominated.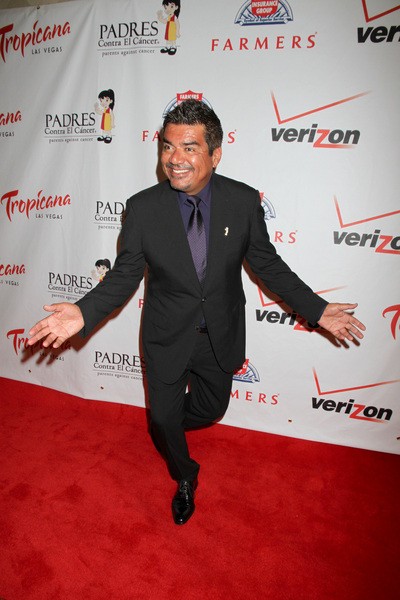 George Lopez: I'm happy. I've won multiple times and I have them where I can see them everyday. It's quite an accomplishment when you work hard to be honored by your peers on a large scale like the ALMAs, which means something to every Latino performer young and old.

Eva Longoria: Everybody knows this, but I always pull myself out of the categories as a producer. And they talked me into keeping myself in the movie category because For Greater Glory was so great and Andy Garcia is amazing in it. And a lot of people from the movie were nominated. I was very proud. But usually I always pull myself out. I was trying to pull myself out again.

You both also nominated Naya Rivera who had such an important storyline on 'Glee' as a lesbian dealing with a religious mother.

George Lopez: That's a good storyline for all people, any actor. It's contemporary and it's nice that we get to play those parts as well.

What has been your most memorable moment from the ALMAs so far?

Eva Longoria: God, one of mine was honoring Andy Garcia. I don't know why, but that one just sticks with me. And another one is when we honored Marc Anthony. Those were really great tributes that I remember. The musical component of all of those were amazing. And then another one is when Christina Aguilera first came on the scene. I believe her first televised appearance was on the ALMAs for 'Genie in a Bottle.' Christina was on our stage when she was beginning her career.

You two are very influential on the Internet, especially with Twitter and Facebook. Are there any plans for live tweets during the actual re-broadcast?

Eva Longoria: I'm sure George will be making some nonsense.

George Lopez: I plan on tweeting. You can tweet with us during the show. Listen, Eva gets me to do things! You know, I snuck in years ago to the ALMA Awards. To think of myself as a multiple host who gets to stand side by side with somebody who I love and admire deeply is an honor.
Eva Longoria: Oh, and I love you too, George. I make George do everything.

George Lopez: And you really do. When I saw you had a dog I said I'll be taking care of it in no time.