Ethan Hawke Turned Down 'Batman'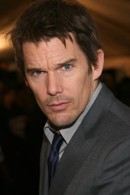 Actor Ethan Hawke has revealed he once turned down the chance to play Batman.

The Before Sunrise star, who was married to one-time Batman villain Uma Thurman, was offered the role of the Caped Crusader after Michael Keaton stepped away from the role, but he opted out.

He tells Details magazine, "This was after Tim Burton's (Batman films), before the bad period. I just didn't want to go to the (New York) Knicks (basketball) game and have everybody go, 'Wow, you were a great Batman!' That wasn't my f**king goal in life. Now I wish I'd done it, because I could have used it to do other things."