Ethan Hawke Talks 'Daybreakers', Contagious Passion And Pushing 40

Remember when
Ethan Hawke
was the slacker in
Reality Bites
? How about the kid in Explorers? Yeah, we've seen Ethan Hawke at all ages so it's a bit of a shock to hear he's about to celebrate his 40th birthday. At least he's keeping it in perspective.
"It beats not turning 40," Hawke said. "That's the only way to look at it, don't you think? You know, as an actor, the lord giveth and the lord taketh away. This is a medium that is largely youth oriented and yet at the same time, I'm playing characters that are so much more appealing to me now. When I was younger, playing the guileless ingénue, I longed for a part that was as interesting as the one I have in Brooklyn's Finest or the one in Before the Devil Knows Your Dead. To get to play adult men is really exciting. The downsides are that you're not as pretty and they don't want you to kiss people as much. The upside is I'm getting to do the kind of work I always dreamed of doing."
Now Hawke's trying something different again, the vampire movie
Daybreakers
. He's inspired to shake things up, because he sees his predecessors continue to thrive. "I don't really care so much what the genre is, as long as the people really care. I worked with a guy who is 70 years old, Tom Stoppard, who is just writing this nine hour play, and his passion for what is possible in the medium of the performing arts is contagious and thrilling. Then I was working with these guys, [The Spierig Brothers]. It was their second movie, their first big-budget movie. They were younger than me and their passion was contagious. That's thrilling. To be in a room with Richard Linklater and listen to him break down the history of cinema, it's exciting to be near."
So 40 is nothing when you think about the really successful artists in Hollywood. "I'm turning 40 this year and the people that I know who are 60 and are still really excited and passionate about filmmaking are all really good. There's a whole other room to get to. A lot of people burn out. But, if you can sustain it and kind of get into the next room, it's fascinating. Some people burn out, and some people like
Clint Eastwood
, he was a wild, international movie star in his 30s, and he's doing the best work of his life now. Go figure."
Daybreakers opened last Friday.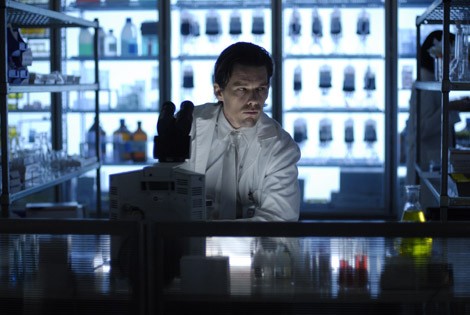 Image © Lions Gate Entertainment
Story/Interview by
Fred Topel
Starpulse contributing writer
(Starpulse in Hollywood)
: Every week, Hollywood's biggest stars are meeting in the hot spots and Starpulse is there.