Estelle Discusses Her Album 'Shine,' American Boys And Her Sense of Fashion

UK sensation
Estelle
has been dubbed
John Legend's
protégé. She's been compared to
Lauryn Hill
and has collaborated with a number of great artists (
Kanye West
,
Swizz Beatz
,
Wyclef Jean
,
Will.i.am
,
Mark Ronson
and
Cee-lo
& Jack Splash) to come up with an amazing album called "
Shine
," which drops in the states tomorrow.
This 28-year-old dynamo is one artist who is comfortable in her own skin. She is willing to take risks to further her career, which characterizes an extreme sense of self-determination that cannot be ignored. Being the first artist to be signed to John Legend's new label, HomeSchool, she is also a quadruple threat - singer, songwriter, rapper and producer - who is here to stay. Watch this space.
Congratulations on the single "American Boy!" It's doing really well in the UK and it spent 4 weeks at number one over there. How do you feel about that?
I'm happy. It's taken about ten years to get to that point. So I'm very happy.
It's still going up here in the U.S. charts. Are you hoping that it goes number one here as well?
Oh, of course [laughs]. I don't know where it's at right now on the charts in the U.S.
I do believe it was 61 on the U.S. R&B charts last time I checked (Note: currently at #55).
Is it really? I can't believe it. You know, I'm just excited about all of this right now. I'm just going to keep going. Keep it moving. My main concern is that people like the album.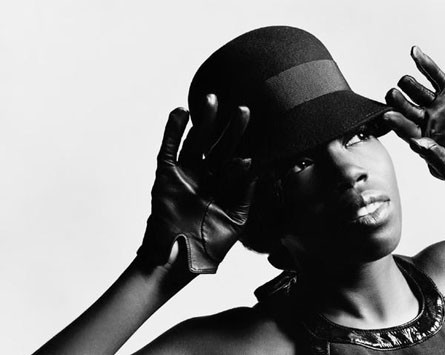 How did you manage to hook-up with John Legend, which led you to eventually become the 1st artist signed to his label Homeschool Records?
I met John in 2002/2003. I worked with him and Kanye West and we stayed friends from there. He was on my first album. He is good people. He liked what I was about and I liked what he was about. It was always about getting work done and making sure we have hits. And, he actually appreciates that about me. I was like, 'let's keep this going.' Every time he was around me we'd make up songs together and what not. He worked with me on the second album and he created his new label and then he signed me.
That's great! You are both two artistic people working together and it seems like you've also developed a good friendship as well.
Mmm-hmmm.
What do you think is the big difference between your first album "18th Day" and your current album "Shine?"
This album is a whole lot more confident. It's a whole lot more together and more serious. And, real honest. I took a lot of different situations and turned them into real life songs. A lot of people that have heard it are like 'who's that about?'
I really worked from a very very real point of view.
So it was very personal.
Very personal.
Did you ever reveal to anyone, concerning any particular song that 'this is about you or that is about you?'
Mmm-hmmm. A lot of guys that I wrote about have asked me 'who is that about?' You know it's about you, stop playing [laughs].
What was it like working with Kanye West on the "American Boy" single?
He's fine. He's a cool guy. Very fun to work with.
So, what do you think of American boys?
I like them a lot.
Do you really? What do you like about them?
They are great to look at.
How are they different from British boys?
The only difference is that they talk too much [laughs].
And British boys don't?
American boys get to a point of wanting to debate you. Its like, 'get to the point, what did you want again?'
So you are saying British boys are more upfront than American boys?
British boys get to the point without being rude, but American boys feel like they have to use game. The games need to stop.
That's true. American boys do tend to follow all these rules in dating. Like the 3 day rule before calling and all that stuff.
Yeah, it's too much.
Do you think that you can be an 'American' girl?
I don't think I'll ever be an 'American'girl, being from London. But, I'm sure I'll find an American boy somehow. I've been getting a lot of offers.
Have you?
I think it's because of the song.
Who have you been getting a lot of offers from? From every type of American guy?
Everyyy type of American guy on my MySpace.
I've been to your MySpace page. You do indeed have a lot of fans there.
A lot of people are comparing you to Lauryn Hill. Do you think that is a fair comparison?
If they are singing the words to my album in 10 years like they do hers, it's a great comparison.
Is she one of the people you look up to when it comes to your musical inspirations?
I would say mostly its
Mary J. Blige
and
Ella Fitzgerald
.
Who do you have on your iPod right now?
I'm a huge
Busta Rhymes
fan. I listen to a lot of old school.
Snoop Dogg
is one of my favorites. I buy all of his albums. I like
Ghostface Killah
.
I know you like Lupe Fiasco. You've raved about him on your MySpace vlog.
He's dope. I also like the
Cool Kids
.
Beyonce
is pretty dope. She really is dope. I know I'm going to meet her now. I like
Common
. I'm a big fan of
Feist
.
Oh, yes. You've said that John Legend got you into Feist.
Yes, he did.
What did you think of them when you first heard their music?
The girl is a wicked vocalist. I also love
Jay-Z
. He's good. I like him. I also love Kanye.
You're becoming more popular everyday. How has your privacy changed? Do you feel like people are coming at you more? Obviously, you are doing this interview, but do you feel like everywhere you go, you have photographers following you? Have you reached that stage yet?
I haven't reached that… well actually in London I've reached that stage where we've had photographers chase our car which was scary. I'm not really bothered by it at all. I dress up everyday anyway [laughs].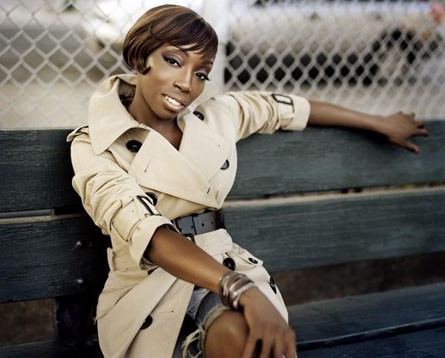 So you'll never be one of those people who ends up on the worse dressed list?
I probably will be at some point because my sense in fashion is not like everyone else's. I'm sure people will have opinions on my sense of dress, but I don't have to be bothered about that. I'm happier about the fact that I'm doing what I love. I really love what I do.
As long as you are happy, then that is all that matters.
Yeah.
Speaking of the way you look. I think your look is very sexy chic. I remember from the "1980" video a few years ago you looked like a teenage girl and now you look like a woman who's blossomed. [She laughs] I think you are very pretty. Tell me who inspires you fashion wise? Especially, with your new style and look? Your hair is a little bit different from how it was a few years back [she whispers that it is]. You wear a lot of dresses now when performing [she laughs again]. Who inspires you?
I base it on
Audrey Hepburn
and
Salt N Pepa
. Influential people in my life as far as fashion, it's across between the hood and very chic Chanel. Audrey Hepburn is very classic with pearls and then you have the Salt N Pepa hairstyle which is short on one side and long on the other. So I call it Audrey Pepa. Audrey Hepburn mixed with Salt N Pepa. I do wear a lot of black [laughs]. I don't like doing a lot of different colors at once.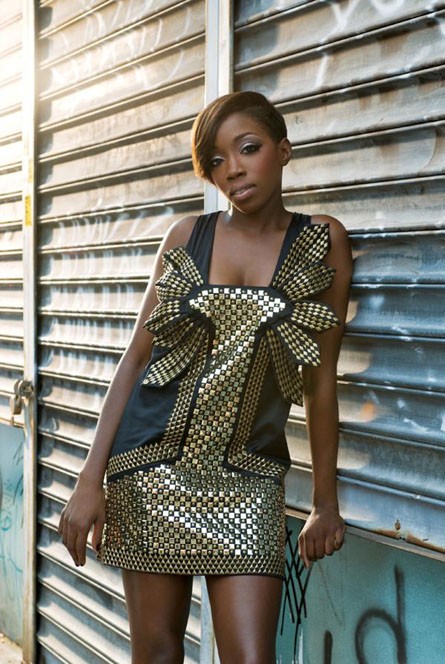 What are you wearing right now?
I have on black jeans, a gold studded belt, a black polo neck and colorful earrings.
That sounds interesting.
I keep it together. That's my personal thing now.
There was a video of you during the photo shoot for your album and in that video you stated that you were in love with your album. Tell us what songs will make us fall in love with your album as well.
I would go for the whole album, but I'll give you a couple [laughs]. "Come Over," "You Are" (with John Legend), "No Substitute Love," "American Boy," "Magnificent," and "Pretty Please."
Estelle Tidbits:
- A chance encounter in Los Angeles outside Roscoe's House of Chicken and Waffles several years ago is what brought John Legend, Kanye West and Estelle together.
-
Deal Real
- a mecca of a record store in Central London for up and coming and established hip-hop and soul artists was once Estelle's place of work.
- Estelle formed and runs her own record label called Stellarents.
- Though secular music was banned in Estelle's household, growing up as a teenager, she still found a way to listen to hip-hop outside the home.
- John Legend makes cameo appearances in both the videos for "American Boy" and "Wait a Minute (Just a Touch)." Can you spot him?
Estelle is currently on tour in the U.S. For more information please see:
http://www.estellemusic.com/tour
Estelle websites:
http://www.estellemusic.com
http://www.myspace.com/estelleonline
http://www.atlanticrecords.com/estelle
Interview by
Doshka Harvey
Starpulse.com contributing writer