Esquire Names Scarlett Johansson The 'Sexiest Woman Alive' For The Second Time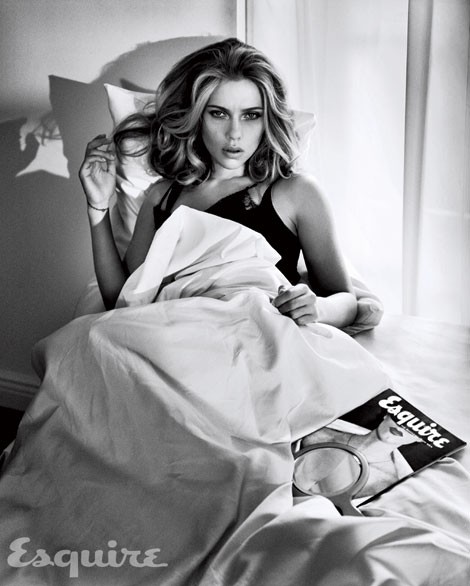 Just like fine wine, Scarlett Johansson is only getting better as she ages. Esquire magazine named the 28-year-old actress the "Sexiest Woman Alive" back in 2006 and bestowed the title on her again this year.
The actress covers the November issue in a sheer, beige tank top and little else. She also poses in a sexy photo spread for the mag.
Johansson takes over from last year's sexiest woman, Mila Kunis, and she's the only star to nab the accolade twice. She also realizes that she has to work hard to live up to the designation.
Johansson told the magazine, "You know, I gotta hustle.  I'm a twenty eight year old woman in the movie business, right? Pretty soon the roles you're offered all become mothers. Then they just sort of stop.  I have to hedge against that with work-theater, producing; this thing with Esquire."
She added, "Sounds pretty bloodless, I guess."
It's been a busy a year for the star. She appeared on Broadway in "Cat on a Hot Tin Roof" and worked on upcoming films such as "Under The Skin" and "Captain America: The Winter Soldier." She currently plays the girlfriend of a porn addict (Joseph Gordon-Levitt) in Don Jon.
The interview doesn't give much insight into Johansson's personal life, but she does mention her fiance Romain Dauriac. When asked about jealousy, she explained: "Look, I'm with a Frenchman. I think jealousy comes with the territory. But I'd rather be with someone who's a little jealous than someone who's never jealous. There's something a little dead fish about them. A little bit depressing. It may not make sense, but you need to feel it a little. I know, irrational, right?"
Johansson, who was once married to actor Ryan Reynolds, added, "I didn't think I was a jealous person until I started dating my current, my one-and-only.  I think maybe in the past I didn't have the same kind of investment. Not that I liked my partner less, I just wasn't capable of it or caring that much."