Esquire Magazine Names Rihanna 'The Sexiest Woman Alive'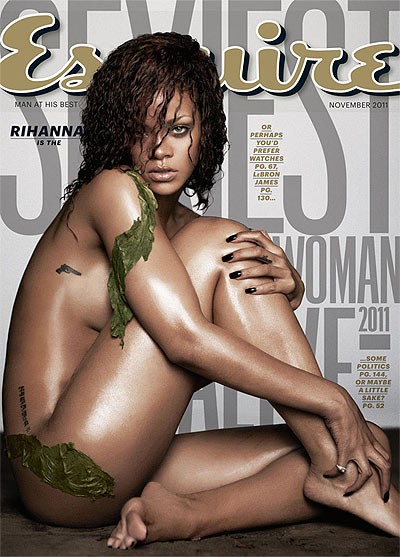 Rihanna may have shed her clothes and posed naked for her photoshoot in the November issue of Esquire, but it's not just her body that earned her this year's prestigious title of Sexiest Woman Alive from the magazine.

Rihanna exudes sexuality, and in the revealing new issue she quite humble about it.

"At the end of a concert, I don't feel like I've been this sexy thing," she tells Esquire's Ross McCammon. "Really, I don't even think about it."
The Bajan beauty can get somewhat sexually explicit on stage though, often touching herself in intimate ways and mimicking sex acts with her dancers and backing band - and the "audience participation" segment of her show can even get quite steamy. Every night she picks one (very lucky) guy (or girl) to come up on stage with her, where she gives a grinding lap dance.

"The way I pick the person is, whoever I feel doesn't take themselves too seriously, or who I think would be majorly embarrassed about it," she explains.

"Like these old men... it's hilarious. At first, it was just going to be girls. And then one night, I brought up a gay guy, and then I started bringing up straight guys. Then I started bringing up older straight men."

She even shares that one time she brought someone up who got "way too comfortable" and "excited" during her routine, and when asked how excited he was she simply says, "We have pictures."

Rihanna also discusses her pre-show warm-up routine, including eating throat lozenges, doing her makeup and honing her voice for a half-hour. She sometimes even sneaks out into the audience during the opening act in a hooded sweatshirt.

But despite not feeling like she's "been this sexy thing" during her shows, the energy afterward stays with her when she returns backstage - "My friends and I are screaming and jumping up and down running in the dressing room."

And after the energy settles a bit?

"Then I'm in fishnets and nothing else for like half an hour," she says.
Yowza!

See (lots!) more of Rihanna in the November issue of Esquire Magazine or at Esquire.com!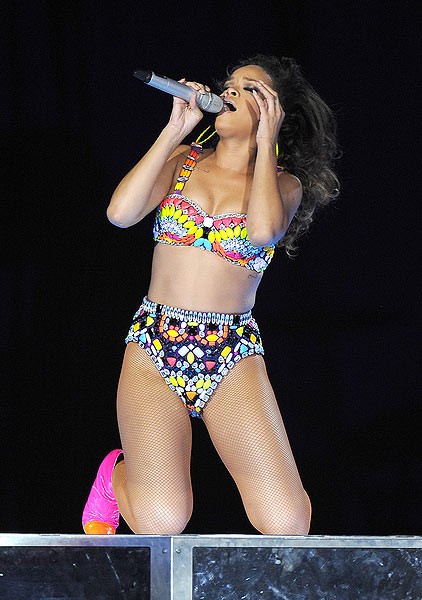 The singer reveals that her on stage bikini outfit is actually made from Swarovski Crystals.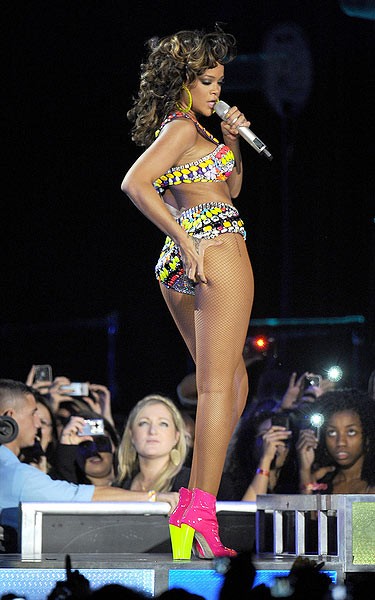 "Swarovski sent us like thousands of crystals," she says of the two-piece; "So the artist Tom Binns started putting them together in shapes and painted them. Because they were all shiny... He's known for that."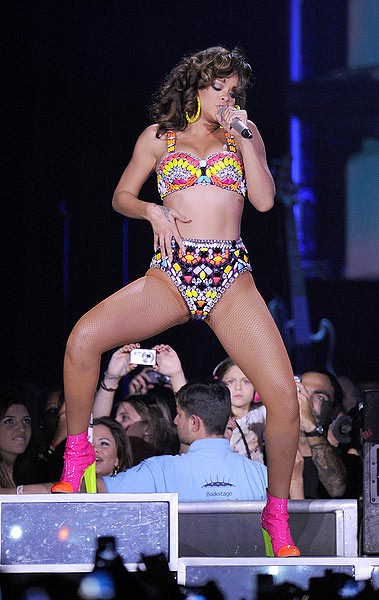 Check out the other sexy women Esquire found nearly deserving of this year's title in the slideshow below, and check out Esquire's list here.
Watch Rihanna's Sexy Esquire Shoot Video: