Erin Andrews Replacing Brooke Burke On 'Dancing With The Stars'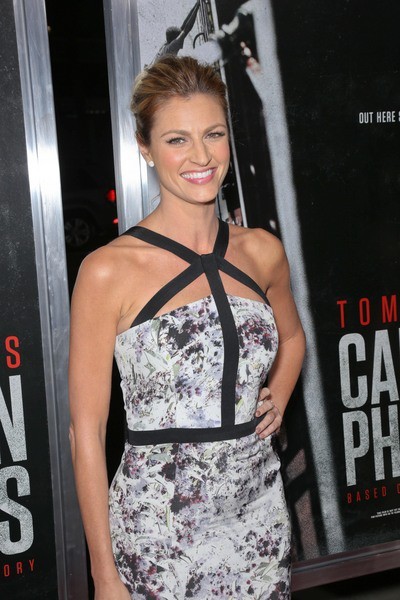 A day after it was confirmed that Brooke Burke-Charvet has been dropped as co-host of Dancing With The Stars, FOX Sports sideline reporter Erin Andrews has been announced as her replacement.

ABC confirmed on Friday that Burke would not be returning as Tom Bergeron's co-host for the upcoming 18th season of the show. Burke took the news in stride, but admitted it caught her off guard.

"I have enjoyed seven seasons co-hosting DWTS but understand the need for change considering the position of the show at this juncture," she said in a statement to E! News. "I've always been one to embrace change and looking forward to pursuing opportunities I previously wasn't able to entertain because of contractual obligations to the show. I've seen my fair share of shocking eliminations in the ballroom but this one takes the cake."

Andrews, who starred on season 8 of the show, isn't the only new addition -- bandleader Harold Wheeler and his 28-piece group have also been dropped in favor of a smaller band led by former "American Idol" music director Ray Chew.

The 35-year-old, like the rest of the world, found out the news via a post on Twitter by ABC morning show "Good Morning America" Monday morning. Following the news, she told People magazine that it's going to be a big task living up to the legacy of her predecessor, who co-hosted the show for eight seasons.

"I know that I have huge shoes to fill," Andrews says. "I'm a fan of Brooke. She was very wonderful toward me in my season. She was so caring and so fantastic. I can only hope I can emulate somebody like that and use her for guidance."

"Dancing has always been a family," she adds. "I call it the Dancing with the Stars mafia. Once you're in that mafia, you're always in. It's always so much of your life. I'm just excited to be coming home."

In addition to DWTS, Andrews will still work as a reporter for FOX Sports.

"And yes, I'm still a part of the @FOXSports family..it will be a BUSY fall..getting tips from @michaelstrahan on how to balance it," she tweeted.

Strahan also pulls double-duty on the airwaves as co-host of morning show "Live! With Kelly and Michael" and on the "FOX NFL Sunday" pregame show during football season.