Erin Andrews' Bizarre 'Vanity Fair' Interview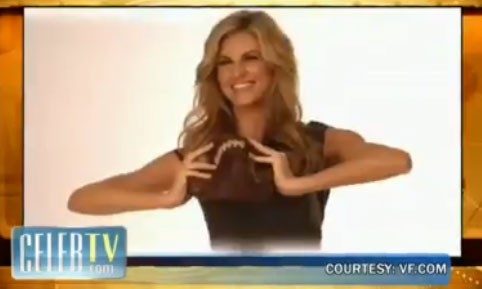 An interview with Erin Andrews is a nice accomplishment these days, after her run-in with a peeper and a great comeback on Dancing with the Stars. So it's quite odd that Vanity Fair's George Wayne decided to ask about constipation and "tranny" shoes.
Andrews had a sporty pictorial that went smooth before the horror that was her interview. It started inane enough, asking about her Irish heritage, but it went downhill quickly. "Do you have man-size feet like Paris Hilton? You know, she can find shoes to fit her only in the 'tranny' section of the shoe store," said Wayne.
"No, I wear a size-7 shoe, and I am five feet ten inches," replied Andrews, trying to keep the answer short so that he would move on to something else. Something... relevant.
However, it got worse.
"What is the one thing you take when feeling constipated?" Was the next question. Was Wayne looking for personal advice? Maybe an easy endorsement deal?
"Are you really going to write about that? I'm not going to comment on that. That is kind of weird and I don't feel comfortable answering that question. I have gone through so much in the last year," commented Andrews.
"I'm sure you have toned perfectly, too, with all that dancing. But what gets me to the vomitorium is that faux romance between you and that cheesy ballroom-dancing partner of yours. What was with this tabloid fake romance?" Inquired Wayne.
"Do you know him?" Andrews asked.
"I don't need to know him to find him cheesy, honey," was the bizarre reply.
"Well, all I know is he was a wonderful dance partner and a wonderful human being who looked out for me, who would call me each night after practice to see if I was O.K."
George Wayne has worked for Vanity Fair since the early 90s. But it seems like he forgot the rule of interviewing: Make the subject the center of attention, not yourself. You can read more of the interview here.