Eric Roberts Hit With $85,000 Tax Bill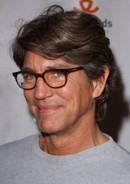 Actor Eric Roberts' tax woes are mounting - he's been hit with a new bill after allegedly failing to hand over more than $85,000. 
State officials in California filed a tax lien for $23,714 against Julia Roberts' brother last year, and he was slapped with another bill for $32,634 in March. 
And now a third document has been filed against Roberts, according to The Detroit News. 
Internal Revenue Service (IRS) bosses filed papers at the Los Angeles County Recorder of Deeds in June, suggesting the star owes an additional $85,890 in back taxes.