Eric Mabius Talks Grocery Stores, Parker Posey And 'Price Check'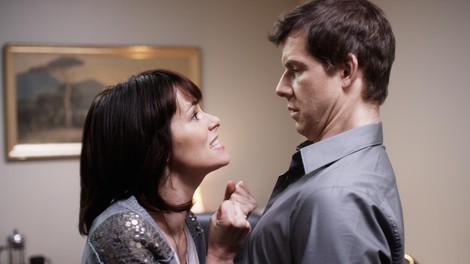 Independent film has always been an oasis to which dedicated film aficionados can escape when they need to have their thirst for mental stimulation quenched after being bombarded by the typical Hollywood fare. No stranger to the indie film scene, Eric Mabius (Ugly Betty) knows the challenges filmmakers face when trying to battle vampires and superheroes for moviegoers' attention. His latest film, Price Check, has been called the definition of an indie film, having been shot in just 18 days on a budget of less than $1 million.
"That's the state of independent film," Mabius points out. "There's not enough money and there's not enough time." While those hindrances may work against other films, Price Check seems to thrive on the pressure, offering a stripped down, realistic look at office life that is both laugh-out-loud funny and disturbingly realistic. And there is good reason for that. "It was one single office," Mabius says when describing the actual office building in which the movie was filmed. "Many of us had to walk a long way to [arrive on set]. There was nowhere to go. There was no craft service, there were no trailers." The lack of glamour most people associate with movie-making seeps into the film's narrative like day old coffee no one wants to replace.
Written and directed by Michael Walker, Price Check will connect with anyone who has ever dragged themselves out of bed in the morning to an office job they are not necessarily thrilled about. [Michael] wrote the script from a lot of experiences his friends had had," Mabius explains. "There were specific people, friends in his life he based this on." The authenticity comes across wonderfully as co-workers squabble over donuts and suffer the inappropriate comments of the office's token pervert.
Mabius' character, Pete Cozy, works in the pricing department of a struggling supermarket chain. He has a loving wife, Sara (Annie Parisse), a young son and a pile of debt that his $40,000 a year job isn't quite covering. Talking about his character, Mabius says, "[Pete] sacrificed a career in the music industry for a house in the suburbs, a yard for his kid to play in and a steady paycheck." There's a trade-off, though: "He's a zombie until Susan Felders comes along."
Susan Felders, played brilliantly by the great Parker Posey, is the new marketing manager sent from corporate and thrust into Pete's life. Posey gives possibly her most dynamic performance in years, switching from manic enthusiasm to near melancholy sometimes in the same scene. For Mabius, though, Posey's energy was terrific. "She (Felders) is the energy that shocks everyone out of their mundane existence to get them to care about the most boring job in the world," Mabius says of his co-star's performance. "She was so much fun to work with." Aside from being a talented actor, Posey has also come to be the poster child of indie world. "She's consistently a champion of independent film," Mabius says, laughing. "They don't call her the Queen of Sundance for nothing."