Eric Mabius Talks Grocery Stores, Parker Posey And 'Price Check'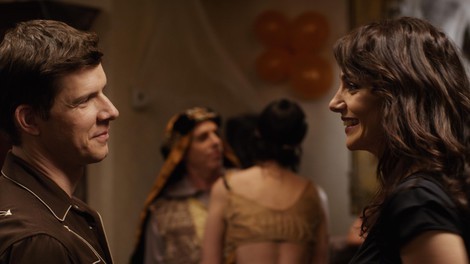 No stranger to Sundance himself, Mabius traveled to Park City, Utah earlier this year with Posey and Walker when Price Check screened at the Sundance Film Festival. "It was exciting to be there after all those years and see how much it has changed," Mabius reflects. "It wasn't about going out at night, it was about seeing some films and doing the work I had to get done while I was there." When his first film, Welcome to the Dollhouse, won the Grand Jury prize at Sundance in 1995, Mabius knew he was experiencing something special. "I was just out of college, so it was a wild ride," he says. "I had seven films at Sundance in four years."  
When asked what it is like bouncing back and forth between television series like Ugly Betty and indie films like Price Check, Mabius points out that it's not fair to compare the two. "The process is really the goal," he says about his choice of project, whether it is a TV show or a feature film. "I take each project on like something completely self-contained. I don't want to compare it to Ugly Betty. I think you're shooting yourself in the foot if you do too much of that." His approach is clearly working. One glance at his IMDB page makes him look as over-scheduled as James Franco.
While Price Check is, outwardly, a light-hearted comedy, much of the story will hit close to home as audiences watch Pete and Sara struggle to raise their son on a one-salary income. When Pete is given a promotion by Susan and doubling of his salary, he is almost too flabbergasted to thank her. So does Mabius think the film is a reflection of what many Americans are facing on a daily basis in today's economy? "I think it's more about the manipulation of the consumer," he says, referencing a scene in which Susan is able to guess the contents of Pete and Sara's refrigerator due to her years of experience. "We're being manipulated when we go into buy clothing, luxury goods. But we don't think about it as much in the grocery store. I didn't realize how much we are manipulated from the second we walk into the store." In the film, that manipulation and conspicuous consumption is what has gotten Pete and Sara into so much trouble; she wants a bigger house, he wants a cool job in the music industry.
Ultimately, though, the film is about the trust that is integral to successful relationships. Mabius is proud of his work and the movie itself which is a thankful diversion from the onslaught of comic book adaptations at the multiplex and a reminder that independent film is as alive and vital as ever.