'Eragon' Video Game Flies Onto Shelves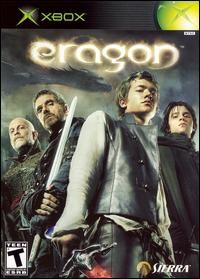 Sierra Entertainment, a division of Vivendi Games, announced today that the video game
Eragon
, based on the upcoming
epic adventure film
from Twentieth Century Fox is available at retailers nationwide and will be followed by the feature film opening in theaters nationwide on December 15th. In Eragon, the video game, players will immerse themselves in the mythical world of Alagaësia and fulfill their destiny as a Dragon Rider. Featuring the voice talents and likenesses from the film's star-filled cast – Ed Speleers,
Sienna Guillory
, Garrett Hedlund and
Robert Carlyle
- Eragon is an unparalleled action-adventure fantasy experience.
"We are excited to capture the adventure and beauty of Eragon for fans worldwide and to create an interactive experience authentic to the Eragon universe in the official video game of the Twentieth Century Fox film," said Cindy Cook, chief strategy and marketing officer for Vivendi Games. "Gamers will also have the ability to enter the Eragon adventure via multiple gaming platforms, from the comfort of their home with the console and PC versions as well as on the go with handheld and mobile RPGs."
Elie Dekel, executive vice president, Fox Licensing & Merchandising, added, "The world imagined in Eragon is one that is perfectly suited for the interactive platform and we can't wait for gamers to experience this rich universe in advance of the film. We think it will serve as the perfect entrée into this fantastic film. "
"Our relationship with Fox has proven successful with hit titles such as Ice Age: The Meltdown and Robots," said Pascal Brochier president, Global Retail for Vivendi Games. "Eragon shares the same successful DNA and we expect fans and retailers globally to embrace this wonderful interactive interpretation."
Developed by StormFront Studios, Eragon is available on the Xbox 360 video game and entertainment system, PlayStation 2 computer entertainment system, Xbox video game and entertainment system and PC. Developed by Amaze, Eragon is also available on the Game Boy Advance system, Nintendo DS system and PSP (PlayStation Portable) system. Developed by Kaolink, Eragon the mobile game will be available on major carriers by early December.
About Eragon for Console and PC
Based on the Twentieth Century Fox film, and author Christopher Paolini's worldwide literary phenomenon, Eragon immerses the player in a magical world of dragons, destiny and adventure. As they fulfill their destiny as a Dragon Rider, gamers will engage in intense battles with an unparalleled magic-based combat system, including stunning finishing moves, multiple grapples and unique counter attacks. The adventure is heightened with dragon flight-based combat and devastating dragon summon attacks. Fantasy fans can also share the adventure with 2 player co-op gameplay.
About Eragon for Handheld
Offering a completely different gaming experience on all major handheld platforms, Eragon will offer Nintendo DS gamers an action-filled combat-RPG with touch screen spell casting and unique dual screen attack mode. Gamers can also sharpen their magic and dragon riding skills in unlockable minigames.
Delving further into the rich story of the Eragon universe, Eragon for the Game Boy Advance is a deep, story-driven turn-based RPG with nine playable characters and fully customizable character skills, along with weapon forging and potion crafting.
Eragon and Saphira take flight on the PSP system in an aerial combat game featuring four person multiplayer in seven different arenas with 12 unlockable arena game types. An extensive single player story mode allows gamers to experience the epic Eragon saga from the dragon's perspective.
For more information go to
eragongame.com
.