'Episodes' Advance Review: Making Fun Of The Hand That Feeds You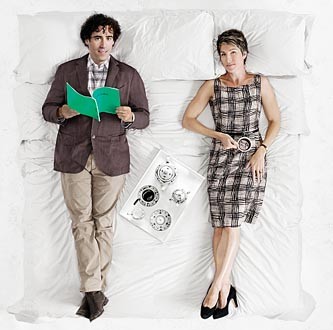 My week of Showtime previews continues with a look at Episodes, the second new series that the network will debut on January 9 (the first being Shameless). Episodes focuses on a British couple named Beverly and Sean (Green Wing costars Tamsin Greig and Stephen Mangan) who experience culture shock when their successful UK television series is adapted for an American audience. As a fan of many British shows, several of which have been butchered in American translation - in fact, Episodes rings amusingly like the story of the Brit sitcom Coupling - I have to say this is a neat and probably long overdue idea for a premise.
Most of the early attention has gone to the fact that Matt LeBlanc is playing himself, or at least, a version of himself - presumably because he's the most recognizable name to American audiences. However, if you're a British TV geek like myself, you'll find a lot to love here. If you've seen either Black Books or Green Wing, you know how funny Greig and Mangan can be in the most outrageous of situations, and The Worst Week of My Life's Ben Miller turns up briefly in the first episode. Producers David Crane (Friends) and Jeffrey Klarik (Mad About You) also cash in their connections here - besides LeBlanc, Mad About You veteran John Pankow co-stars as blustery producer Merc Lapidus.
There are some things about Episodes that irk me, as they're those kind of "cute" things that only happen in sitcoms; for example, when they're trying to convince a security guard that they are who they claim to be, rather than produce ID (didn't they bring their passports to L.A.?), Sean demands to see the list at the guard gate - so there can be a joke about how Renee Zellweger is on the list. In addition to some situations being a bit absurd, some jokes get a little repetitive, and that makes me wonder if those two things will eventually put the brakes on this one - but it's a fun trip while it lasts. The show does a pretty darn good job at poking fun at the inner workings of Hollywood, or at least, what we imagine them to be. There's a later scene where Sean and Beverly meet with three disingenuous network executives, one of whom informs them that Merc has never seen their show to begin with. There are plenty of pop culture references (including an Eliza Dushku name-drop of all things) to be chuckled at. Matt LeBlanc is also having a great time playing himself without turning into a caricature. It's all fairly amusing, certainly moreso than Crane and Klarik's last effort, the lifeless The Class. Maybe it's the fact that this is a BBC co-production.
Is it appointment TV? Not exactly. It still bears a few trappings of the genre it parodies, and that its creative team spent so long delivering. Yet it's head and shoulders over the majority of sitcoms that we've been subjected to over the past few years. Anyone who can't listen to one more canned laugh track, or enjoys poking fun at the Hollywood machine, would do well to check this one out.
Episodes premieres January 9th at 9:30 PM ET/PT on Showtime.