Epic Battles Come To Life In 'Immortals,' On Blu-ray & DVD March 6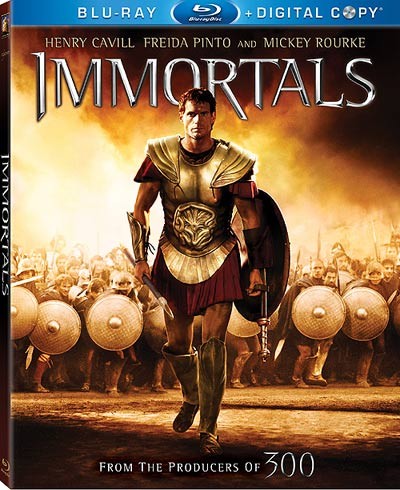 One brave warrior, touched by the gods, must overcome all odds to save mankind from a merciless and powerful tyrant when Immortals comes to Blu-ray and DVD on March 6th from Twentieth Century Fox Home Entertainment. Directed by visionary filmmaker Tarsem Singh and written by Charles Parlapanides and Vlas Parlapanides, the home entertainment release is chock-full of must-see bonus features including an alternate beginning, two alternate endings, deleted scenes and an amazing graphic novel, creating the ultimate viewing experience.

From the producers of 300, Mark Canton, Gianni Nunnari, and Relativity's CEO Ryan Kavanaugh, Immortals explodes off the screen with action-packed battles, mythological adventure and an all-star cast including: Henry Cavill, Luke Evans, Kellan Lutz, Isabel Lucas, Freida Pinto, Stephen Dorff, John Hurt and Mickey Rourke. In this epic tale of vengeance and destiny, power-mad King Hyperion (Rourke) threatens to destroy all of humanity on his maniacal quest to obtain the ultimate weapon – the legendary Epirus Bow that gives the power to unleash war on both Heaven and Earth. But Theseus (Cavill), a heroic young villager chosen by the gods, rises up to stop Hyperion's brutal rampage. With supernatural help from the beautiful oracle Phaedra (Pinto), Theseus embraces his destiny and leads a fierce band of warriors in a desperate fight for the future of mankind.

Immortals is available on Blu-ray and DVD on March 6th and was theatrically-released by Relativity Media on November 11, 2011.

SPECIAL FEATURES (Blu-ray plus Digital Copy):
·Alternate Opening
-Young Theseus
·Two Alternate Endings
-This Is Our Last Embrace
-Theseus Kills Hyperion
·Behind-The-Scenes Featurettes
-It's No Myth
-Caravaggio Meets Fight Club: Tarsem's Vision
·Deleted Scenes
·Immortals: Gods & Heroes (Graphic Novel)

SPECIAL FEATURES (DVD):
·Deleted Scenes
·Behind-The-Scenes Featurettes
-It's No Myth