Enya To Release New Album: Amarantine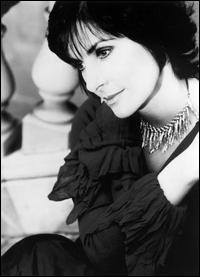 One of the top-selling female vocalists of all time,
Enya
, follows her 13 million selling album "
A Day Without Rain
" with the release of her sixth album. The newest album, "Amarantine," will be available on November 22, 2005 from Reprise Records.
Recorded in Ireland, "Amarantine" is classic Enya and once again, the record is a product of the extraordinary and long-standing creative partnership Enya has enjoyed throughout her career with producer/arranger Nicky Ryan and lyricist Roma Ryan. With its atmospheric blend of sublime melodies, symphonic caverns of sound and classical motifs, "Amarantine" will delight her legion of fans, to whom Enya's music acts an oasis of calm and beauty in a world of clamor and chaos.
"We called the album 'Amarantine' to mean everlasting," Enya explains. "Poets use the word to describe an everlasting flower and I loved the image of that. We've spent two years working on the album so it is obviously a very exciting time for me when everything finally comes to fruition and people get to hear what we've been doing."
With more than 65 million album sales to date, Enya is one of the world's biggest selling artists. Yet her path to the top has hardly been a conventional one, not least because she's achieved her success by eschewing the usual trappings of celebrity, keeping her private life her own and letting her music do the talking.
Born Eithne Ní Bhraonain in Gweedore, County Donegal into a musical family, her own training was in classical music rather than on the Irish folk scene. Her career took flight and Enya rapidly became the biggest-selling Irish solo artist of all time. "
Watermark
," her 1988 Reprise debut, was driven by the chart-topping success of the single "Orinoco Flow," and the album sold eight million copies. Three years later, Enya followed with "
Shepherd Moons
," which sold ten million and earned her first Grammy Award. Four years later came another Grammy with 1995's "
The Memory of Trees
." In 2001 two of Enya's songs "May It Be" and "Aníron" appeared in the film "
The Lord of the Rings - The Fellowship of the Ring
" after the director Peter Jackson personally asked her to contribute to the film. Enya, Nicky and Roma were all nominated for an Oscar and a Golden Globe for "May It Be." Now comes "Amarantine," Enya's most rounded and fully realized work to date, music that is as timeless and enduring as the amaranth itself, the mythical flower that never fades.
"Amarantine" tracklisting
1. Less Than A Pearl
2. Amarantine
3. It's In The Rain
4. If I Could Be Where You Are
5. The River Sings
6. Long Long Journey
7. Sumiregusa
8. Somebody Said Goodbye
9. A Moment Lost
10. Drifting
11. Amid The Falling Snow
12. Water Shows The Hidden Heart