Enuka Okuma On 'Rookie Blue' Season 5 And Visiting 'Motive'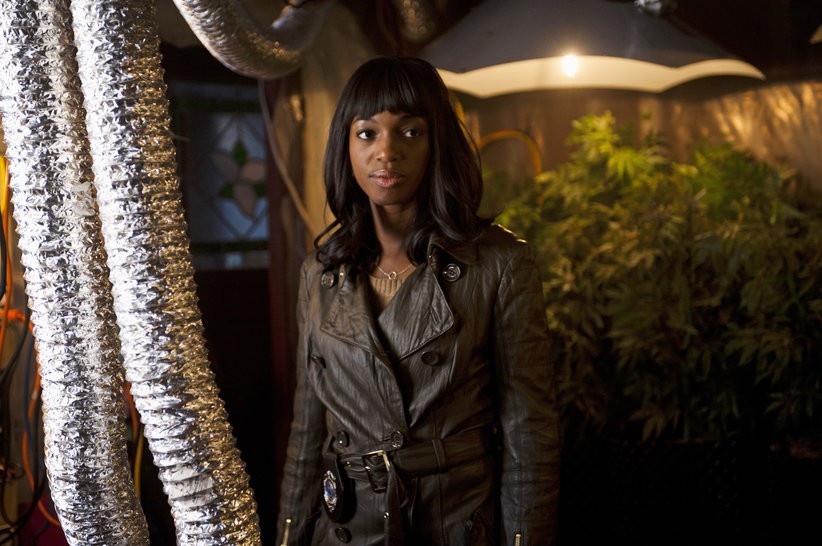 Our Rookie Blue hit parade rolls on with the lovely and talented Enuka Okuma, who plays no-longer-rookie Detective Traci Nash on our favorite Canadian import. Enuka sat down with us last week to discuss Traci's third season out of uniform, her new romance with fellow investigator Steve Peck, and the other great show that she dropped into this year.
Last season, much of Traci's story was about her professional life, but in season five it's her personal one that will be on the front burner, in more ways than one. After refusing to give up on her in season four, Steve finally wears Traci down and gets her to go out with him - coinciding with actor Adam MacDonald's promotion to series regular. He was pretty fantastic as a recurring player last cycle, so what was it like to have him on-board full time?
"Adam and I, we get along really, really well. We have lots of laughs on set," Enuka told us. "I love what they've done with his character, sort of playing on his strengths, because he's a really funny guy. And he's a great scene partner. I'm happy to see [Traci] have a love interest.
"Also, he's a detective like [her deceased boyfriend] Jerry [Barber], but it's a little different. She and Steve aren't in the same field," she continued. "This year, we're going to see kind of how they work a little differently, and they may come to a blow or two...As we know on Rookie Blue, it's never together without problems!"
The first big problem is Traci's former love interest Dex, who told her in the season premiere that he intends to pursue custody of their son, Leo. Enuka revealed to us that he wasn't making an idle threat. "That is definitely a storyline," she said. "Dex means business.
"He really does mean well," she conceded, "but you never, ever saw Dex and Traci happy. There was always some tension. It's complicated, let's put it that way. That's probably the theme of this season: it's complicated." (And it actually is up in Canada, where the phrase is used in all the show's advertising.)
Back on the investigative front, we'll still get to enjoy one of our favorite parts of the show: Traci teaming up with fellow detective Sam Swarek, once Sam recovers from the gunshot wound he sustained at the end of last season. "He pulls through, that's no secret, so there will definitely be some more Sam and Traci case-cracking," Enuka said, "but in the beginning he's out of commission, so a lot of it is up to Nash to figure it out."
The season premiere picked up almost immediately after the shooting that left Sam critically wounded, but obviously was not filmed then, so we asked Enuka how difficult it was to resume her character in the same moment when in reality, so much time had passed between episodes.
"It was not fun. I made sure that I watched the show to remember where we were at," she laughed. "What was harder was everybody's hair. Everyone was like okay, I have to look like I did last year at that exact moment. Some people had lost weight; some people had shorter hair. We all had to figure out how to make it look exactly like it was [back then]. As far as feel, it takes no time for us to get back into a groove!"