'Entourage' Movie Held Up By Jeremy Piven's Salary?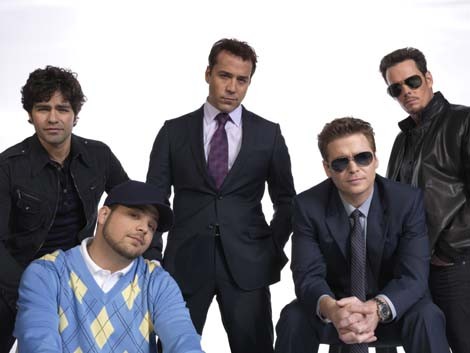 Who knew one quote would reveal so much about a film? Mark Wahlberg's "greedy" comments started a litany of rumors and articles on the highly-anticipated Entourage film. Now, it appears the "greedy guys" are the cast, who seek to make as much as Jeremy Piven will for the film.
Warner Brothers will make sure the film will stay under a $30 million budget, which has led to a stand-off between the cast and producers. The Hollywood Reporter cites sources saying Jeremy Piven has sealed a deal that will give him a nice payday, and points out that Piven had the richest deal at the start of the series.
Reportedly, one of the main contentions is Piven's backend compensation that the other cast members have not been able to acquire for themselves. Producer Mark Wahlberg told reporters that the film would be made "As soon as those guys stop being so greedy." 
Adrian Grenier, who has been named as a holdout, told fans last week, "I will sign any deal that gives ALL the boys an opportunity to share in the upside of success EQUALLY."
The film adaptation of Entourage does have a ticking clock: it was awarded tax breaks in California to begin filming, but if production doesn't start soon the tax break will be rescinded.
HBO's other films based on an original series, Sex and the City and its sequel, made $400 million and $300 million worldwide, respectively.