'Entourage' Cast Members Respond To Mark Wahlberg's 'Greedy' Quote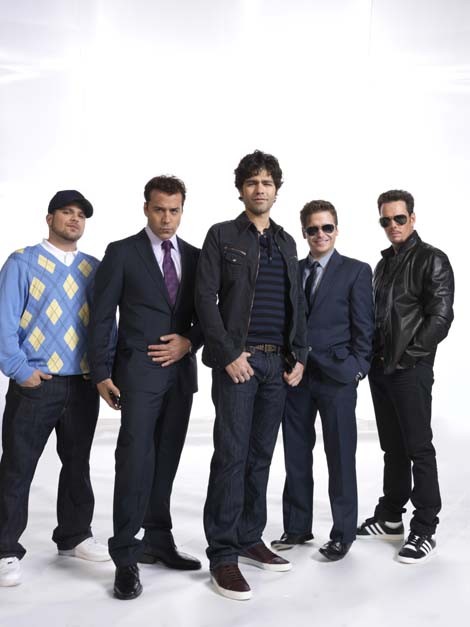 Last week, Mark Wahlberg told a TMZ cameraman that "greedy guys" were holding up the highly-anticipated Entourage movie. Now, a pair of cast members has responded.
Wahlberg said, "As soon as those guys stop being so greedy," when asked, "When is the Entourage movie coming out?"
He then continued, "No, we just want to make sure... it's one of those things where if the movie is a success, then we'll get to make a lot more of them, and then everybody will make a lot of money. We want to make it for the fans. It's the most I've ever been asked about a movie."
Days later, Jerry Ferrara, who played Turtle in the HBO show, responded by saying he wasn't at fault for the delay and even boasted, "I'd do it for free."
Adrian Grenier, who played buzzy actor Vincent Chase, posted a picture on Instagram that read, "To all Entourage fans. I owe it to you to make a couple things clear. I take my role as Vince on the show & off very seriously. All decisions I make personally & for business are for the principle of friendship and brotherhood. It has & never will be about the money for me. I promise.
"I will always stand up for the boys (that includes you) & do what I can to make sure they are treated fairly, and not be taken advantage of by anybody. The spirit of Entourage is about sharing the opportunities given to us and I will sign any deal that gives ALL the boys an opportunity to share in the upside of success EQUALLY.
"I assure you, despite the perception, there is no greed in my heart. Remember, it will all work out in the end. It always does."
Page Six reported in September Adrian Grenier, Jerry Ferrara, and Kevin Dillon were the stars who were holding out on signing contracts for the film. The movie adaptation was first announced in January of 2012, and a script was finished a year later.