Entertainment Weekly Celebrates 'The Empire Strikes Back' With Exclusive Never Before Seen Photos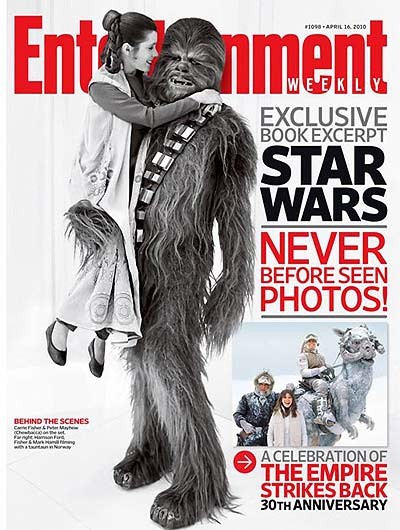 George Lucas celebrates the 30th anniversary of his landmark sequel by opening his vault of rare and never-before-seen photos for an upcoming book, and this week's issue has the exclusive excerpt. Star Wars hit theaters on May 25, 1977, and it was unlike anything anyone had ever seen. However, when most Star Wars aficionados go back to watch their favorite installment from the franchise it is not the original film, but its follow-up, The Empire Strikes Back, that fans gravitate towards. EW explains why The Empire Strikes Back remains the ultimate Star Wars film.

The book also has great quotes from the cast and crew such as:

Mark Hamill: "Actually, Harrison and I never fought in either picture. It was Carrie and I who had the screaming matches from time to time, though afterward neither of us could remember what they were about"

Carrie Fisher: "Eric Idle had returned from Tunisia, where Monty Python were shooting "Life of Brian" [1979]. And he brought over what I believe he called 'Tunisian Table-Cleaner,' which was a beverage. Well, Harrison came over and the Rolling Stones came over, and I think we stayed up most of the night. So when we arrived at Cloud City, we were very happy."

(Cover Story, Page 34)

Check out the full story on EW.com!
Also in the issue:Janet Jackson's Guide To…Janet Jackson

The showbiz icon's role in Tyler Perry's "Why Did I Get Married too?" is just the latest in a career that spans more than 30 years of TV shows, movies, and music videos. In this week's issue, Jackson gives Entertainment Weekly a tour of some of her most memorable performances.
(Page 22)

Colin Farrell: The Sequel

Colin Farrell was Hollywood's hottest bad boy, but after a series of flops (and a stint in rehab), he's now older, wiser, and delivering the best work of his career. This week's Entertainment Weekly takes a look at Colin Farrell - the sequel.
(Feature, Page 46)

Want More?

The Must List - Ten things you must hear, see do this week. (Page 9); News + Notes - Why Charlie Sheen might leave Two and a Half Men…Carol Burnett picks her favorite TV shows, including 30 Rock, which she says "I'd love to guest-star on it, I just think they're so good. In a way, it feels like the successor to Mary. Tina Fey's already on the road to being iconic."...Hollywood's obsession with the number four…Things that came out this week...Remembering John Forsythe…Monitor…The Ausiello Files….Hit List….The Shaw Report. (Page 17); The Return of Glee: Five Reasons To Be Excited - With new tunes, new plot twists, and new guest stars, fans have a lot to look forward to with the return of the show that's got everybody singing. The twists will be surprising for fans, but the producers say the biggest surprise is Glee's success. "Everybody who's involved in the show is like, 'How the hell did this happen?'" says co-creator Ryan Murphy. "I'm not afraid of the hype, and the reason I say that is I've seen the back nine [shows] and they're spectacular." (Page 42)
Get The Daily Entertainment Scoop On EW.com

Entertainment Weekly's April 16 Issue is on newsstands nationwide Friday, April 9th!