Emmy Voters, Please Recognize These Shows & Stars!

The 2009 Emmy nominees will be announced Thursday morning and despite recent changes to the voting system, Emmy voters just can't seem to stray away from the same old outcome. Sure,
30 Rock
gets showered with love, but how many more times does
Mariska Hargitay
need to make the cut?
Here are some names we'd like to see on the roster this year (in alphabetical order):
Big Love
(HBO) - Ok Emmy voters, it's been three seasons. It's time to get over your aversion to the icky polygamy premise and embrace the TV bliss that is "Big Love." After a two year break (damn writers' strike!) the show returned as strong as ever. We'd love to see every major player score a nomination, but with such a big ensemble that's a difficult task. There's
Jeanne Tripplehorn
's heart wrenching turn when Barb was excommunicated from the church, the bubbly yet highly emotional
Ginnifer Goodwin
as Margene,
Chloe Sevigny
continuing Nicki's craziness, Grace Zabriskie's menacing Lois,
Amanda Seyfried
struggling with her desire to bolt from her family only to become unexpectedly pregnant, the charming Brana Katic as possible fourth wife Ana, not to mention
Bill Paxton
holding down fort as head of the house Bill. Too many options. Bravo's "Real Housewives" crew can flip tables, throw shoes, and bitch all they want, but they've got nothing on the drama going down in the Henrickson household.
Breaking Bad
(AMC) -
Bryan Cranston
won for Outstanding Lead Actor last year, and season two of the show was even more intense. It deserves a win for Outstanding Drama plus recognition for
Aaron Paul
(who does double duty over on "Big Love") and Anna Gunn.
Danny McBride
on
Eastbound & Down
(HBO) - In anyone else's hands fallen baseball superstar Kenny Powers would've just been another
Will Ferrell
-in-a-tight-uniform-exposing-his-chest-hair character (Ferrell himself is an exec producer and guest starred on the show). And while it's probably only a matter of time before we get sick of McBride's shtick (see his similar work in
The Foot Fist Way
,
Pineapple Express
, and
Tropic Thunder
), he's at his best here.
Eva Longoria Parker
on
Desperate Housewives
(ABC) - Ok so even with a five year jump to the future "Housewives" hasn't regained the momentum of its early years (why have these people just not moved away from this neighborhood if they seem to be encountering life-threatening mysteries around every corner?), but Parker's comedic wit has stayed strong even as her character transformed from foxy fashionista to overworked suburban mom. Somehow she remains the only original female lead yet to be nominated.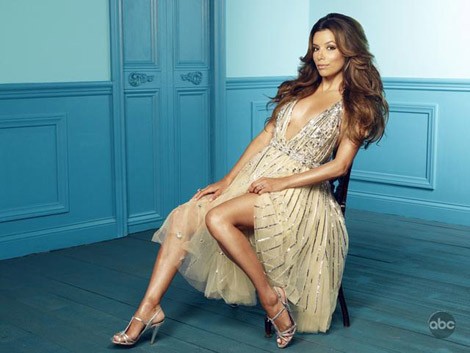 Image © American Broadcasting Inc.
Friday Night Lights
(NBC) - This may be the last chance for the show to get some recognition before it joins
Gilmore Girls
and
The Wire
as great shows the Emmys explicitly ignored every year.
Generation Kill
(HBO)- Last summer's look at the early days of the Iraq war stayed afloat even when managing dozens of similar looking characters in uniform tracking through deserts. One minute the series centered around the hilarious
Judd Apatow
-esque banter between soldiers only to suddenly shift attention to their war-is-hell atmosphere.
Glee
(FOX) - It would be ridiculous to let a show join the big races after only airing one episode. But we are toooooootally obsessed with Glee and can't wait for it to return this fall. So to ensure the show succeeds how about some award attention at least for the awesome choreography of the "Rehab" number, and since most categories are voted on based on tapes from one episode, director Ryan Murphy could use some acknowledgment for creating such a great pilot.
Grey Gardens
(HBO)-
Drew Barrymore
's turn as Jackie Kennedy's eccentric emotionally unstable cousin Edith Bouvier was a fantastic platform for the actress to show off her rarely seen dramatic chops. Cut it out with the crap rom-coms, Drew! Had the film been released in theaters, the divine two-time Oscar winner
Jessica Lange
would've easily taken home statue number three as Edith's equally delusional mother. Catherine Marie Thomas' gorgeous costume design as well as the detailed production design from Kalina Ivanov and set decoration by Norma Jean Sanders brought life and history to the cult classic documentary of the same name.
In Treatment
(HBO)- This show kicked out most of its cast to make room for new patients for Dr. Paul. "In Treatment" continues to feel like excellent, intimate theater trapped inside a television show.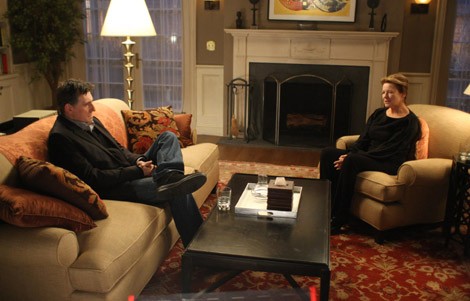 Image © Home Box Office
It's Always Sunny in Philadelphia
(FX) - The writing of this show has developed a crisp group mentality over the last few seasons that deserves recognition…even if it probably offends half of the voter population.
Mad Men
(AMC)- Last year's golden child at the awards probably doesn't need our help, but here it is anyway. Despite being an ad man, Don Draper himself would probably never campaign for awards. He'd just light up a cig and wait for voters to come to him. It's been almost a year, but let's recall the continued slick costumes, cinematography, and long awaited look into Peggy's baby drama.
Pamela Adlon
on
Californication
(Showtime) - Too often the show feels like its trying so hard for vulgar humor, but Adlon's hilariously messed up Marcy keeps bringing us back.
Party Down
(Starz)- Too bad this show airs on Starz or it wouldn't remain so far under the radar. Many familiar comedy faces have shown up in the world of failed aspiring actors stuck working day jobs as caterers, so there's room in the guest star categories for the likes of
J.K. Simmons
and
Kristen Bell
.
Scrubs
(ABC) - After much speculation, "Scrubs" will indeed return for a ninth season. Eight was enough for us, and without
Zach Braff
's J.D. as the show's emotional core we'll have to check out of Sacred Heart Hospital. The Emmys are fans of rewarding shows for their swan song season (see
Everybody Loves Raymond
), and while "Scrubs" will continue, this is the last chance to reward Braff and
Sarah Chalke
as leads. Not to mention the never nominated
John McGinley
as Dr. Cox who's probably spit out more words during his fast paced insults of J.D. than more people do in their entire lives.
Stellan Skarsgard
on
Entourage
(HBO) - As crazed director Warner, this was one of the best uses of a guest star on the show since
Martin Landau
.
Summer Heights High
(HBO) - Technically the show isn't eligible as it was fully produced outside of the United States two years ago. But who cares about rules when it comes to a show that joined the ranks of
Arrested Development
and
Curb Your Enthusiasm
as the decade's best comedies…and with only eight episodes. None of it would've been possible without the show's mastermind Chris Lilley who reached Peter Sellers levels of chameleon insanity transforming between troubled youth Jonah (f--- you miss!), rich teen mean girl Jamie (Lilley plays a better 16-year-old girl than most actual teen girls could) and overreacting drama, er, sorry, "performing arts" teacher Mr. G. Dictation 4 life!
30 Rock
(NBC) - Our love for this show needs no explanation and Emmy voters agree. Now let's nominate
Tracy Morgan
and
Jane Krakowski
.
Ugly Betty
supporting players (ABC) -
America Ferrera
and
Vanessa L. Williams
have both received attention, but its supporting cast members
Michael Urie
,
Ana Ortiz
,
Ashley Jensen
, and
Becki Newton
that keep the show afloat.
Weeds
(Showtime) - In it's fourth season, creator Jenji Kohan completely uprooted the show's foundation, sending the Botwins away from their prestige Agrestic abode, ditching half the cast, and putting Nancy in even more morally compromising situations. A lesser show would've folded under new circumstances, but "Weeds" floated as high as um…insert bad stoner joke here.
Story by
Michael Mellini
Starpulse contributing writer