Emmy Nomination Surprises, Snubs And Shouldn't Be Nominated

To paraphrase Ned Flanders, apparently an Emmy nomination is easier to get than an acceptance letter from Arizona State.
This morning, Emmy tried to one-up Oscar's new rule of ten by including six nominees in the acting categories and a whopping seven in the series categories. Yes, if you made a television series this year, or appeared on one, chances are you heard your name called in North Hollywood this morning.
With so many nominess, it seems impossible that any deserving performances or series were left out. Right? Sadly, no. And, of course, there are plenty of nominees who shouldn't be sniffing the inside of an envelope come Emmy night.
That's right; it's time for everybody's favorite game - Surprises, Snubs, and Who Shouldn't Be Nominated!
Best Actor in a Comedy
The Nominees:
Jim Parsons
"
The Big Bang Theory
"
Jermaine Clement "
Flight of the Conchords
"
Tony Shalhoub
"
Monk
"
Steve Carell
"The Office"
Alec Baldwin
"30 Rock"
Charlie Sheen
"
Two And A Half Men
"
Surprise:
Shock would be a better word to describe the inclusion of one Jermaine Clement on this Emmy shortlist. A New Zealander from a singing comedy show that about three dozen people watch on HBO? That's a like a Scarlet Letter for Emmy voters, not a reason to cast a vote.
Snub:
It doesn't seem possible, but
David Duchovny
did not get a nomination for '
Californication
'. Many people are probably still reading this list in disbelief, but it's true. David Duchovny did not get an Emmy nomination for playing Hank Moody on 'Californication'. Yes. David Duchovny did not get an Emmy nomination for 'Californication'. No matter how many times you read it, it still doesn't seem right.
Shouldn't Be Nominated:
This category is 'Outstanding Performance by an Actor in a Leading Role on a Comedy Series', not 'Outstanding Ability to Sleep Walk Out of a Trailer, Play a PG-13-Rated Version of Oneself, and Then Saunter Back Into the Trailer to Go Back to Sleep'. Right?
Best Actress in a Comedy
The Nominees:
Julia Louis Dreyfus
"
The New Adventures of Old Christine
"
Christina Applegate
"
Samantha Who
?"
Sarah Silverman
"
The Sarah Silverman Program
"
Tina Fey "30 Rock"
Toni Collette
"
The United States of Tara
"
Mary Louise Parker
"
Weeds
"
Surprise:
Comedy Central shows are essentially Emmy poison, and Comedy Central shows starring alternative and controversial comediennes are basically voting arsenic. Somehow Silverman still gets nominated. How strange!
Snub:
If you read Emmy predictions around the Internet this week, pundits were predicting a landslide for '
The Big Bang Theory
'. That was never going to happen, still its lead actress,
Kaley Cuoco
, should have been nominated. Her acerbically controlled sarcasm centers the show and allows
Jim Parsons
to be as wacky as possible without alienating viewers.
Shouldn't Be Nominated:
Well considering "Samantha Who?" got cancelled this season a result of its writing and corresponding performances going into the toilet, maybe the series' lead actress shouldn't be getting a nomination.
Best Actor in a Drama
The Nominees:
Bryan Cranston
"Breaking Bad"
Michael C. Hall
"Dexter"
Hugh Laurie
"
House
"
Gabriel Byrne
"
In Treatment
"
Jon Hamm
"
Mad Men
"
Simon Baker
"
The Mentalist
"
Surprise:
Yes, 'The Mentalist' is essentially the most popular scripted show on television, but nobody could have seen a nomination coming for its suave lead. And, on second viewing, his ability to manage the breeziness of the show with the depths required for his tortured character was spot on. He deserves it.
Snub:
It's sad that given six slots Emmy fails to recognize the best performance on TV this season. That, of course, belonged to
Kyle Chandler
of 'Friday Night Lights'. A wholly organic effort from Chandler as his Coach Taylor faced nothing of great consequence in TV land - just situations we all encounter in our everyday life. And the way he showed his character's struggles and ruminations on those situations reminded every viewer of themselves.
Shouldn't Be Nominated:
Despite the exclusion of Chandler (and Bill Paxton for that matter) this is a very solid list. And no
James Spader
. Huzzah!
Best Actress in a Drama
The Nominees:
Sally Field
"
Brothers & Sisters
"
Kyra Sedgwick
"
The Closer
"
Glenn Close
"
Damages
"
Mariska Hargitay
"
Law & Order: SVU
"
Elisabeth Moss
"Mad Men"
Holly Hunter
"
Saving Grace
"
Surprise:
A completely run-of-the-mill, let's fill out our ballots the same every year, type of list. No surprises here.
Snub:
What exactly does
Anna Paquin
have to do to get an Emmy nomination? Golden Globe award for the performance - check. Oscar-winning pedigree - check. A wildly popular show with huge buzz - check. A knockout performance upon which the entire show rests - check. An Emmy nomination - check?
Shouldn't Be Nominated:
Well, considering 'SVU' peaked about forty-seven years ago and Hargitay's performance has since featured the same dialogue, situations, and character choices week after week, maybe it's time to leave her off the ballot.
Best Supporting Actor in a Comedy
The Nominees:
Kevin Dillon
"
Entourage
"
Neil Patrick Harris
"
How I Met Your Mother
"
Rainn Wilson
"The Office"
Tracy Morgan
"30 Rock"
Jack McBrayer
"30 Rock"
Jon Cryer
"Two and a Half Men"
Surprise:
The surprise of the morning. Three-time defending Emmy champion
Jeremy Piven
is left off the ballot. His performance last season was of the same quality that saw him win three years running and now he doesn't even get nominated? It's a shame - I'm sure Neil Patrick Harris had about nineteen sushi jokes locked and loaded that we'll now never see.
Snub:
Just when nobody was looking,
Ed Helms
snuck up this season and stole '
The Office
' right out from under everybody else on the show. His Andy Bernard is the most complete comic creation on the show and the only thing consistently funny during an uneven season. At least he has the residuals from '
The Hangover
' to provide him solace.
Shouldn't Be Nominated:
Okay, kids. Time for a lesson on what acting is. Yes, Jack McBrayer is funny on '30 Rock' but what he does can hardly be considered acting. When his character has the same expression, same reaction and same dialogue every single week there isn't really much of a challenge. There are no obstacles for his character to overcome - no journey upon which to embark. Contrast that with the brilliant Morgan who's faced with a different set of circumstances every week and manages to adapt his character to those challenges and show us his journey on every episode.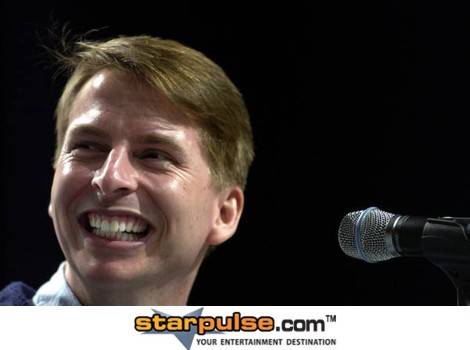 Image © PR Photos
McBrayer just doesn't do this. Granted, he's not required to, but that doesn't mean he should be given an acting nomination for a one-dimensional performance. He's like a comedia dell'arte performer from the 15th century of whom it was expected to never, ever change. This could be considered an exercise in remarkable control if it weren't for the fact that he does the exact same thing in every single other appearance he's ever made in a movie or TV show, proving his minimal range. Call it the Michael Cera Syndrome