Emma Watson Tweets A Response To 'Fifty Shades Of Grey' Rumors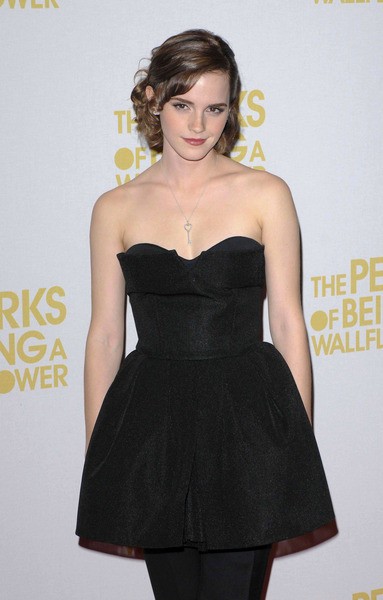 Those with fantasies of seeing a grown-up Hermione Granger in a bondage-laced sex scene may be disappointed to learn that Emma Watson is not playing Anastasia Steele in the big-screen adaptation of "Fifty Shades of Grey."
The film will be based on E.L. James' best-selling erotic novel of the same name. It centers on a man named Christian Gray who introduces Anastasia to the world of bondage and kinky sex.
Rumors started swirling last week that the 22-year-old actress was cast in the much-anticipated film. A famed group of hackers, known collectively as Anonymous, leaked several documents from German studio Constantin Films. One letter indicates that Watson has been confirmed to star in the upcoming Focus Features film.
The actress, who is most known for playing Hermione in the "Harry Potter" franchise, has revealed she has no interest in the role.
She tweeted on Sunday: "Who here actually thinks I would do 50 Shades of Grey as a movie? Like really. For real. In real life." She later added, "Good. Well that's that sorted then." She then posted a smiley face.
Since her "Potter" days, Watson has starred in the films "My Week With Marilyn" and "The Perks of Being a Wallflower." She appears in the upcoming movies "The Bling Ring," "This Is The End" and "Noah."
Several actresses have been linked to "Fifty Shades of Grey," including Watson's fellow British actress Keira Knightley. When asked if the project is in her future, she commented: "No, it's not. It's not going to be 'Fifty Shades of Grey.' You know, I normally don't like to give a definite about anything, [but] I can definitely say it will not be 'Fifty Shades of Grey'."
Mila Kunis, Kristen Stewart, and Kate Beckinsale (among others) have also been linked to the role. As for the role of Christian, "Vampire Diaries" star Ian Somerhalder is a big fan favorite. He played coy during a TV interview last week, saying, "I can't say anything other than it's a very interesting story."