Emma Watson Top Pick To Play Belle In 'Beauty & The Beast'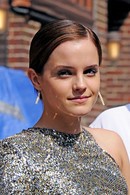 "Harry Potter" heroine Emma Watson is in talks to revamp the "Beauty & The Beast" tale for a major movie adaptation.
Producer Denise Di Novi let it slip that Watson was the number one choice to play the part of Belle in a retelling of the fairytale by cult director Guillermo del Toro during a junket for her new film "Crazy Stupid Love."
Meanwhile, Emma's latest film "Harry Potter and the Deathly Hallows: Part 2" smashed the record for the best opening weekend in movie history after raking in $168.6 million.