Emma Watson Dazzles In A Gray Ruffled Gown At 'Harry Potter' Premiere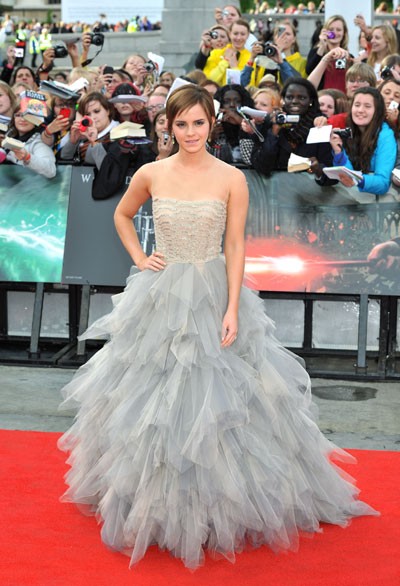 Emma Watson attended the "Harry Potter And The Deathly Hallows: Part 2" world film premiere in London, England, today looking lovely as always.  This actress/fashionista rarely disappoints on the red carpet.
The final adventure in the Harry Potter film series follows Harry (Daniel Radcliffe), Ron (Rupert Grint), and Hermione (Watson) as they prepare for a final battle with Lord Voldemort (Ralph Fiennes), who is determined to destroy Harry once and for all.
In order to defeat the powerful wizard, they must find and destroy Voldemort's last and most elusive Horcrux -- that is, the enchanted piece of soul allowing him to remain immortal -- before his nefarious plans come to fruition.
Emma hopes students in her native Britain will give her the same privacy she received at America's Brown University when she resumes her studies later this year.

The star enrolled at the famed Rhode Island institute to study English Literature but dropped out in April to pursue a different course not offered at Brown. She is rumored to be taking up her studies at England's prestigious Oxford University after she finishes promotional work for the latest Harry Potter movie.

Watson has now confirmed she will be studying "at home" and hopes her fellow Brits will be as respectful as her former classmates in America.

At a press conference in London, she says, "I will be focusing solely on my studies (after finishing Potter promotion). People were very respectful at Brown of my privacy - and I just hope that will be the same at home."

Watson told reporters she hopes to live on campus at college and even take up student drama, but only "if it feels right."