Emma Stone: Recovering Farmville Addict & Summer 2011's Hottest Star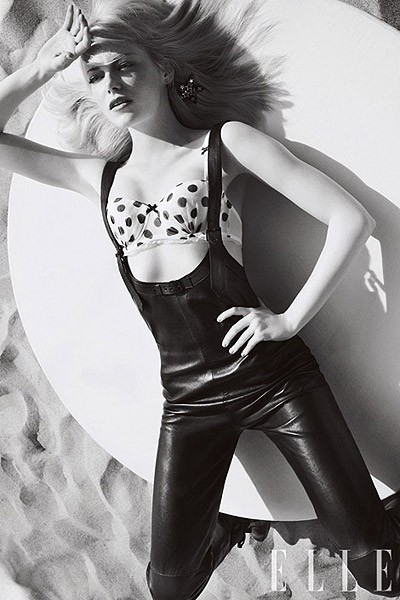 Emma Stone may be the most in-demand young actress these days, and you'll be seeing alot of her this summer; not to mention in next year's The Amazing Spider-Man as Peter Parker's girlfriend Gwen Stacy.

But as for this summer, Emma's featured in three films released over a four week period. She'll star alongside Justin Timberlake and Mila Kunis in Friends With Benefits, which opens July 22; with Steve Carell, Julianne Moore and Ryan Gosling in Crazy, Stupid, Love on July 29; and finally on August 12 she takes the lead in The Help (click each film title for details on each one).

So it's only fitting that she's the the cover girl and featured in the July issue of ELLE magazine. Since starring as Jonah Hill's love interest in SuperBad, Emma's come a long way.

"It's so funny how different life could have been. I went to so many auditions. I remember my audition for Heroes. I went in right after Hayden Panettiere. Now here we are in this rented house. It feels like it just happened," she says in her interview.

But Emma isn't so instantly recognizable in public yet.

"I mean, I haven't been around very long. I can't expect everyone to have seen The House Bunny. Oh God. I am having such waves of internal embarrassment, which now I'm admitting on a tape recorder. This is so one of the things I should keep in my head," she says, obviously not too proud of the film.

So what's the secret to her success?

She wants to be believable in her roles: "I like to look like a person. It drives me crazy when you see women in movies playing teachers, and they have biceps. It totally takes me out of the movie. I start thinking, Wow, that actress playing this part really looks great!"

In her personal life, Emma was obsessed with Facebook app Farmville ("I got to level 42, and I wasn't doing anything else anymore, so I had to stop"), a habit that she recently kicked; and she's turned to baking to control her nervous energy and keep herself centered.

"It's very controlled, she explains. "You know, if you put in the same amount of whatever is in the recipe, it will come out all right."

But don't expect her to talk about her love life with boyfriend Kieran Culkin.

"You have to keep some things sacred…" she says.

The July issue of ELLE magazine hits newsstands June 21.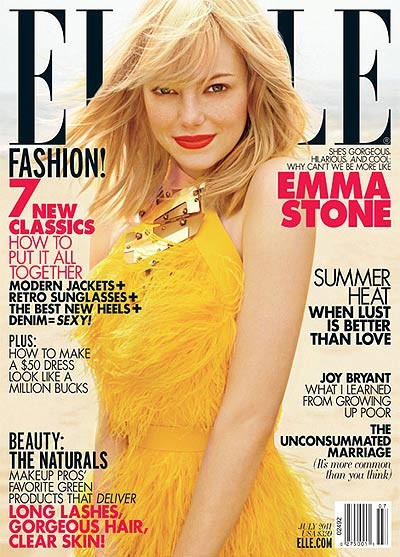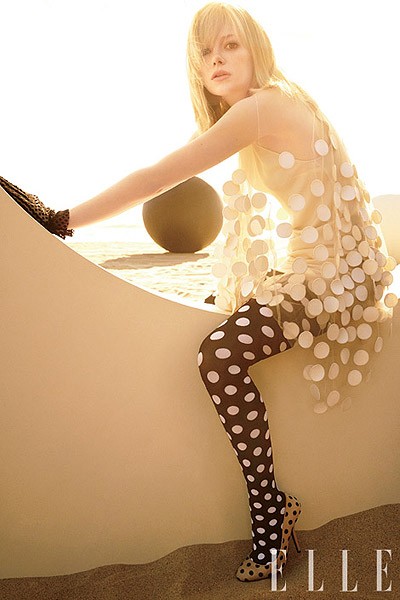 Click here to see more photos and info from the Emma Stone cover shoot!
More Emma at ELLE.com:

Red Carpet Buzz: Emma Stone in Lavin at the BAFTA awards
Emma Stone Pairs a Sleek Dress with a Tasteful Bun at the 2011 Golden Globes
Emma Stone on the 2011 Met Gala Red Carpet