Emma Stone Planning An Undercover Comic-Con Visit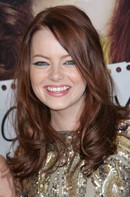 The Help star Emma Stone is planning to hit the world's biggest comic book convention in disguise this summer after missing out on the chance to join other geeks at Comic-Con last year.

The actress had planned to attend Comic-Con in San Diego, California dressed as a Star Wars Storm trooper after promoting her upcoming Spider-Man film, but there wasn't time.

So she has made a note to return as a costumed fan this year. 
Stone tells the Comic-Con Annual, "We had to leave right after the panel to fly back to L.A... (Obviously) now I can't be a Storm trooper, but I'll pick something else."
 
She also insists she's not joking about her love for the event: "It's like 100 per cent passion in one venue. It's fantastic... There's just such a positive feeling there."

Comic-Con 2012 will take place at the San Diego Convention Center in July.