Emma Stone Closed Facebook Account After Becoming Hooked On FarmVille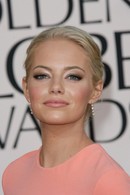 Actress Emma Stone shut down her Facebook.com profile after becoming "addicted" to a video game on the popular social networking site.

The Easy A star found herself hooked on FarmVille, which allows players to run their own virtual farm, growing crops, raising animals and trading goods with other participants.

However, Stone spent so much time cultivating her fictional piece of land, she forced herself to deactivate her Facebook account so she could focus on her real life and film career.

She tells Vanity Fair magazine, "I got addicted to FarmVille, so had to get off."

Stone isn't the only famous fan of the game - Lady Gaga debuted tracks from her new album Born This Way on a spin-off of FarmVille, dubbed GagaVille, in May, and veteran entertainer Jimmy Buffett is looking to cash in on the web craze with his own take on the game, called Margaritaville Online.