Emma Stone Beats Jimmy Fallon In The Latest 'Tonight Show' Lip-Sync Battle (Video)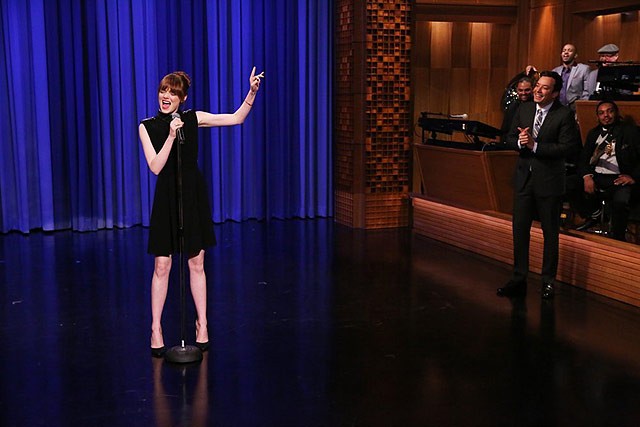 Emma Stone and Jimmy Fallon had an epic lip-sync battle on The Tonight Show Monday night while the actress was in town to promote her new flick, The Amazing Spider-Man 2.

Stone brought her A-game to the battle, which has seen the likes of Paul Rudd, Joseph Gordon-Levitt and Stephen Merchant all compete with the host, choosing two high-difficulty tunes that she performed flawlessly.

Fallon got things started with Iggy Azalea's "Fancy," but it was Stone's perfect rendition of Blues Traveler's "Hook" that easily won the first round and had Fallon doubled over laughing.

"I forgot all about that song," Fallon said. "So good! I really gotta pick it up now. I've gotta up my game."

He then stepped up for round two, choosing Styx's 1983 classic "Mr. Roboto," which he nailed after what appeared to be a shaky start.

But it was all Emma as she fittingly picked DJ Khaled's "All I Do Is Win" (feat. Ludacris), another fast song that she nailed, easily winning the competition.

Check it out below...