Emma Roberts Recalls Her 'Unibrow' And Shows Off An Interesting Talent (Video)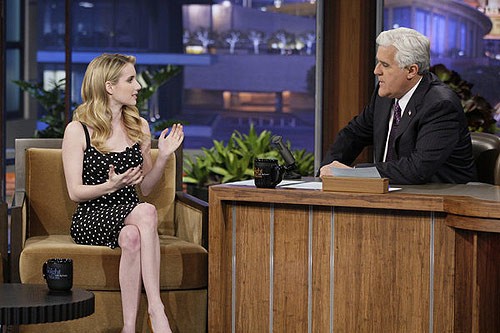 Emma Roberts guested on The Tonight Show with Jay Leno on Thursday night and Jay congratulated her on landing the cover of the latest Women's Health magazine.

But in addition to the talk show host's kudos for the star, he took the opportunity to ask Emma to share a personal grooming issue she had when she was a child with his audience.

"I had a 'unibrow' for alot of my childhood," she said. "I remember I was in kindergarten and I came home one day and I was like, 'Mom what's a unibrow?' because this boy kept calling me 'unibrow' all day."

Emma mentioned that her mother said she would take her to get her eyebrows waxed - but not before Jay could share a childhood snapshot of Emma's unibrow!

"There is something kind of 'Twilight' about that," he said of the pic. "I expect 'Team Edward' or somebody to come in there..."

Emma also shared her recent experience as a guest star on kids show Phineas and Ferb, where she's asked to burp on cue; and she also reveals an interesting talent.

Check out the video...


Click for more great Emma Roberts pictures: