Emma Kenney, 'Shameless' Star On The Set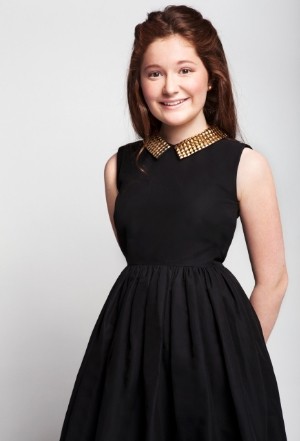 Emma Kenney stars in Showtime's award-winning drama, Shameless.   In case you haven't seen this show, it's about a large, poor family with a dad who is an alcoholic (Academy Award nominee, William H. Macy), and the mom is MIA. Consequently, the children are forced to raise themselves in a shady area of Chicago.
Shameless recently started its fourth season. You can watch the compelling series on Sunday at 9:00PM.
Emma provided some insight about her character during our chat between filming.
Who is Debbie Gallagher?
Debbie's the middle Gallagher sibling, and she's very different than the other Gallaghers. In prior seasons, she took her job of helping support the family very seriously, and she worries a lot, although this season, Debbie flips and turns into a crazy teenager who is lost, kind of abandoning her role as a helper.
Is there anything that the audience doesn't know about Debbie Gallagher?
Debbie is supposed to be neat and tidy. This season Debbie is also a lot more grown up, or at least tries to act that way. She still craves for a normal family though, and I think she always will. She is also an outcast and awkward.
Are you anything like Debbie?
Honestly, no. Maybe just that we both try to do good in school, that's pretty much it. 
Is this cast close like a family?
Yes! We're all really close, it's great. Ethan Cutkosky who plays Carl is like my brother, we literally grew up together and to this day he's still one of my best friends.
What can the audience expect this season?
A lot of drama and plot twists! 
Is it difficult to keep up with your school work and be on set?
To be honest, I don't like set school, it is harder.  But I love my set teachers! I love filming though and I want to go to college, so I just deal with it because I know if I don't keep up with my studies through set school, then I won't be able to film or go to NYU Film School for college, so I try my best. :)
You can follow Emma on Twitter: https://twitter.com/EmmaRoseKenney
Here is Emma in a gripping performance: