Emma Kate Debuts "Neon Yellow Hearts," Chats About Her Upcoming EP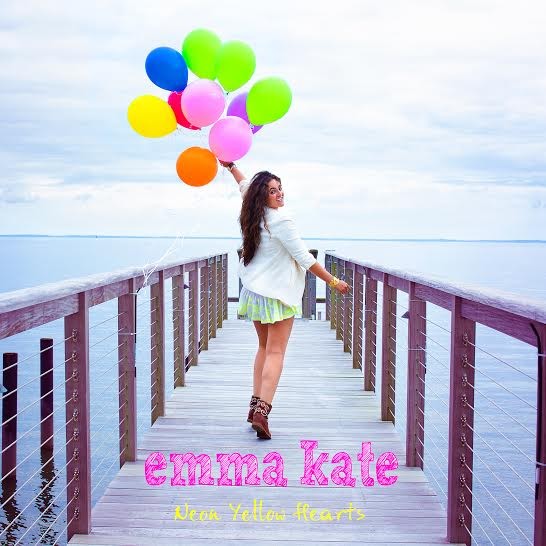 You can't help but want to dance and sing along when you hear Emma Kate's latest single, "Neon Yellow Hearts," a nostalgic song about her high school group's last night together. I recently had the opportunity to speak with the singer-songwriter about her music and upcoming EP prior to last night's showcase at The Bitter End in New York City.
How did you get your start in music?
I've been singing my whole life in school, in barber shop quartets and in a cappella groups, but in tenth grade I had the opportunity of meeting singer-songwriter Matt White through a mutual friend who had gone to college with him. He needed someone to sing background for one of his songs, so I was there to do it. He started introducing me to some writers and producers and from there it all started snowballing and eventually I met my writing partner now in LA (Aaron Kamin from The Calling) and we've been working together ever since.
I see that you've spent the last two years of high school flying back and forth to California. What was that like for you? Was it exhausting and thrilling?
Well, it was a little bit of both [exhausting and thrilling]. I have a really big fear of flying, so that was a big challenge for me but it was all worth it. I mean, I was getting to go and work with writers and producers who were really teaching me about the importance of songwriting, which was something I didn't realize was so important before that. I learned so much. I started really creating my sound and I'm really excited about it.
I see that you're a former New Jersey Nets junior dancer. What was that experience like? Did you always know that you wanted to be a performer?
Yeah, definitely! I started out, actually, as a dancer because I was a little more shy with my singing. At my after school dance classes, we found out about all of the auditions. I went and tried out and it was really fun and cool to learn what it was like to be part of a team, but I slowly realized that I wanted to be the one on stage doing my own thing.
Can you talk a little more about your new single, "Neon Yellow Hearts," which debuted on iTunes this week?
I wrote "Neon Yellow Hearts" after I had just finished high school and my friends and I were having our end of summer party together and we were just like "Let's have one final thing!" So we all went over to my friend's house and we played the music so loud that the speakers broke, so we went up to the roof of her building and watched the sun set. It was one of those nostalgic moments that I tried to capture in the song because I knew I could never really get it back. It was the end of high school and we were all going our separate ways, so the lyrics are very truthful and honest because I wrote them. Even though it's a party song, it's about my life.
Can you talk a little bit more about your upcoming EP? Would you consider it to be similar to your new single, something a little different or maybe a little bit of both?
Yeah, it's definitely in the same vein. It's pop, upbeat, fun music but there are singer-songwriter undertones. I write everything so it's very honest. I'm in college so there are ballads about my ex-boyfriend, but there are also songs about going out with my girlfriends, like "Who cares we don't have boyfriends! We're not upset about it." So it's a very fun, upbeat sound but there are still some sad love songs in there.
If you could collaborate with any artist or producer, who would it be and why?
I think right now (and maybe it's because I'm obsessed with everything he does) it would be Ed Sheeran. I had the pleasure of seeing him live a few months ago. When he goes on stage and you see him doing everything on his own, you can see he's just so incredibly talented. I almost kind of want to be a fly on the wall and be in a room with him to see him in action. He's just so great and all of his songs make me want to cry, in a good way - and I wish they were about me! [Laughs]
You have a great sense of style. How would you explain it? Do you have any particular style influences?
Well I definitely always dress for my mood. I don't have a specific "I'm boho chic" or "I'm so New York," but if wake up in the morning and I'm feeling somber, I put on some dark colors. My oldest sister used to dress me when I was little, so I always steal her clothes! I just think you can never devalue a white t-shirt. It can go a long way!
I see that you're involved with Only Make Believe and the Joyful Heart Foundation. Can you tell me a little bit more about how you got involved with both organizations?
I got involved with Only Make Believe because my mom was actually involved. In high school I got the chance to work with them for some fundraisers and costume making activities. They put on shows for children in hospitals who are terminally ill, so we got to create these costumes for them. It's just amazing to see the looks on their faces when they pull the costumes out of the treasure chest. They get to be astronauts or Broadway stars for a few hours. It's just tear-jerking!
I got involved with the Joyful Heart Foundation because one of my best friends at school was interning for them. She's really trying to build up their younger audience because, right now, it's geared towards older women since it's lead by Mariska Hargitay (Law & Order: SVU). So she's really trying to work with them to build a bigger, young adult audience. I don't think domestic violence is talked about enough, especially because it's a tricky subject and it's hard to talk about. It's very important, especially on college campuses. I'm in college and you see things like this happen all of the time, so I'm excited to be involved to help them build their young audience.
What do you like to do in your spare time?
Well I spend most of my time between school and music, so if I have down time I love hanging out with my friends. We do a lot of online shopping together, sitting on the couch at home. [Laughs] Now I'm really excited because I have a new little niece, so I hang out with her every day. I'm obsessed with her! But yes, I love spending time with my friends and family and going to sporting events.
Emma Kate's new single, "Neon Yellow Hearts," is now available on iTunes.