Emma Bunton Sporting Neck Brace For Persistent Injury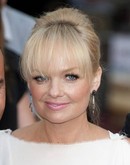 British singer Emma Bunton is sporting a surgical brace in a bid to ease her aching neck.

The former Spice Girl has been suffering after waking up one morning with a painful neck, and she's now using a support device to help mend her ligaments after failing to find a solution.

She tells Britain's Daily Mirror, "I've been sporting a bit of an odd fashion choice this week. It's a neck brace! And it's getting in the way of my dance moves!

"I just can't get rid of it. I've had so many emails and ideas about how to make it better."

The singer also posted a picture of the accessory on Twitter.com alongside the words, "My neck is still sore, have to wear a neck brace!!! Don't think this fashion trend will catch on!"