Eminem Feels Like A 'Rap God' In New Single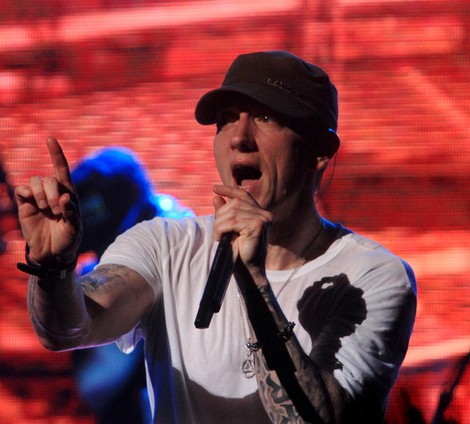 Eminem was giving hints about the second single off his upcoming album The Marshall Mathers LP 2, but an early leak forced the rapper to release "Rap God" - and it's getting rave reviews.
Whereas his Bezerk video was a callback to the 80s, in Rap God Eminem takes on all newcomers with a simple backing track that allows for some amazing vocal work to shine.
"I'm beginning to feel like a Rap God, Rap God / All my people from the front to the back nod, back nod," is the simple hook, but in between Eminem lays down minutes-long verses. The song itself clocks in at 6 minutes.
During his versus Eminem name drops Heavy D & the Boyz, Fabolous and Ray-J's feud, 80's rapper J.J. Fad, Monica Lewinsky, Rakim, Tupac, NWA, Lakim Shabazz, and Run DMC ("Inspired enough to one day grow up, blow up, and be in a position/ To meet Run-DMC induct them into the motherf---in' Rock and Roll Hall of Fame").
You can listen to the track below, but be warned it includes plenty of adult language. The Marshall Mathers LP 2 scheduled to drop November 5.