Eminem Defends His Pop Collaborations

Rapper Eminem has defended his decision to mix hip-hop with pop by recruiting Pink and Rihanna to record collaborations for his new album - insisting he felt both artists could "pull it off."

The star scored a major international success with his last pop collaboration - 2000 single Stan, which featured a sample of Dido's track Thank You.

He has since parodied a number of pop icons in his work, including Michael Jackson, Madonna, Britney Spears and Christina Aguilera, but he's now embraced the musical genre again by inviting both Pink and Rihanna to record vocals on tracks for his upcoming album Recovery.

And Eminem is adamant his decision to work with high-profile pop stars makes perfect sense.

In an interview with French radio station Skyrock FM, he says, "When I did the song (Won't Back Down) that I did with Pink I laid my parts first and kind of heard her on the record. I felt like she would smash this record, so I gave her a call and she was with it, so we did it. The other that I did with Rihanna (Love the Way You Lie) is one of those tracks that I felt only she could pull it off. Both of the records, I guess you just got to hear them to know what they are."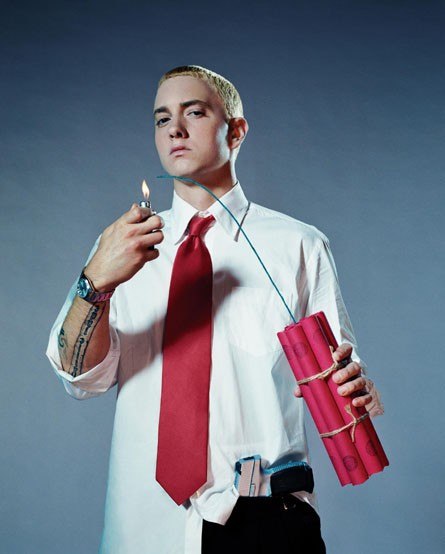 Click Here For More Eminem Pictures